How to add an Instagram feed to your website
To add an Instagram feed to your website, we recommend using POWr Instagram Feed.
POWr Instagram Feed will display multiple images from any Instagram @handle or #hashtag and will update automatically to display new posts. 
Step 1 - Copy your Instagram Feed code
Step 2 - Paste into your Jimdo website
Log into your Jimdo website and add a Widget/HTML Element where you would like your Instagram Feed to appear.  Paste the code from Step 1 into the field and save.
Step 3 - Edit your Instagram Feed
A new Instagram feed will appear. Click the Edit Instagram Feed button to open the POWr Editor. This button will appear in both Edit and View modes, but only you can see it.

Click Start from scratch, then enter a @handle or #hashtag in the Connect menu under Following. 
Use the Content and Design menus to customize your feed.
The POWr Instagram Feed is available for free. You can also purchase an Upgrade to remove the POWr logo, increase how often your feed will update, and unlock premium features.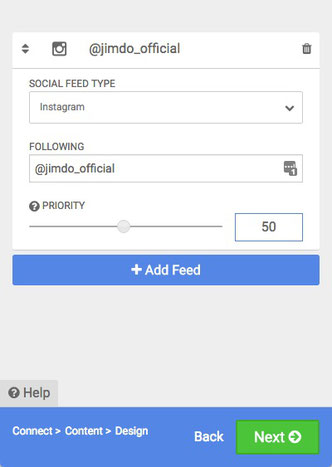 Step 4 - Publish your Instagram Feed
Click Next to move through the POWr Editor. When you are finished, click Publish, and name your plugin.  If you do not already have a POWr account, you will be prompted to create one.
Visit POWr.io for more free Jimdo plugins.