Setting Up Shipping Costs
Once you've created your store products and set up your website to accept payments, you should configure your shipping settings. You set your shipping rules by opening the Menu and navigating to Store > Settings > Shipping Costs.
By default, when you visit the Shipping Costs page, you will be able to set all the shipping rules for the country that you specified in your Store Settings.  However, you can easily add additional regions or countries and set specific rules for each of those as well.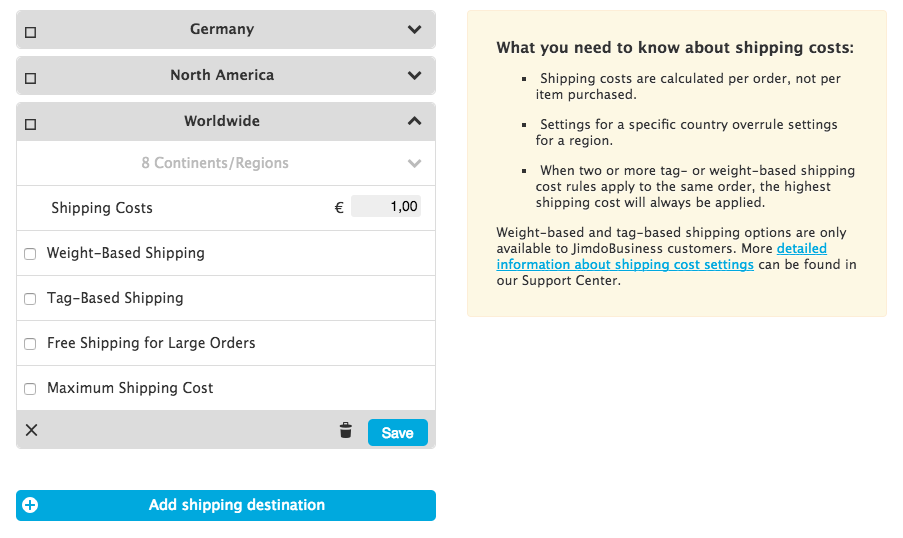 Basic shipping options
Jimdo applies the shipping cost on the total order that the customer creates.  
The default Shipping Costs are a flat rate cost per order. You can set this to be whatever you like. If you set it to $0, then shipping will be free. If you set it to $5, then every order, whether it is someone spending $2 on one item or $300 on 10 items, will be charged a total of $5 for shipping that order.
If you have items that must be shipped separately, you can set the option to calculate shipping per product within the Store Item Elements themselves. Click "...Additional options" in the Store Item Element in order to activate the setting.
In this case, instead of charging $5 for the entire order, it would charge $5 for each item that has "calculate shipping per product" enabled.
If you want to give a break to customers who place a particularly large order, you can turn on Free Shipping for Large Orders. This will allow you to set the amount that a customer must spend to enable free shipping.
You may also set a Maximum Shipping Cost for cases where you know you don't want to charge a customer more than say $10 for shipping.
 Once you have your shipping set up, use the Test Order payment option to check that different orders are actually calculating the shipping costs the way that you intend.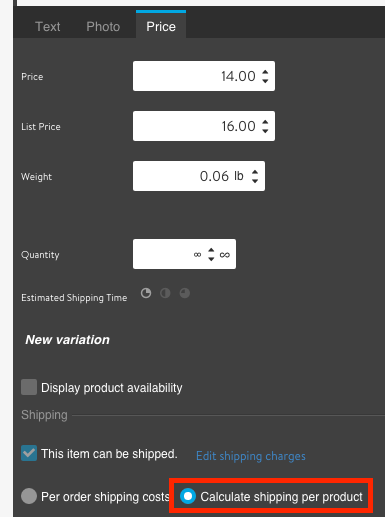 Advanced shipping options
If you need more control over shipping costs, JimdoBusiness subscribers can set shipping rules based on weight or tags. 
Weight-based shipping 
If you activate the weight-based shipping rules,  you will need to go to each Store Item Element on your website and add the correct weight in the Additional options area.
Then, when the customer checks out, the system will calculate the total combined weight of all the items in the order and charge the appropriate weight based upon the rules that you set up in Settings > Store > Shipping Costs.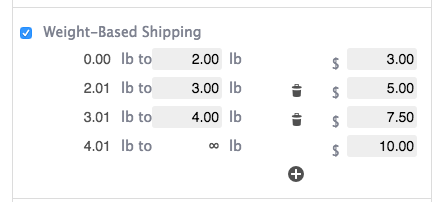 Tag-based shipping
Similar to weight-based shipping, tag-based shipping also requires you to make some edits to each of your Store Item Elements. The same tags that you can use to create categories or to populate Store Catalog Items can be used to power your shipping rules.
This is great if you have a few different "classes" of products. You can make tags for "Large-Items", "Medium-Items", and "Small-Items", and then make each of those categories ship at a different rate.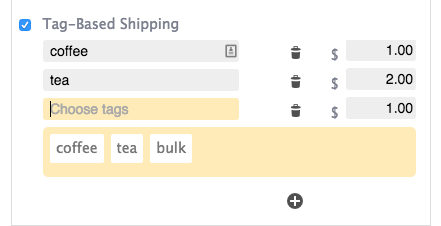 Note: If you set multiple shipping rules on your store, and more than one applies in a particular situation, the rule with the higher shipping cost will be applied.
Related articles: