Offline Promotion with QR Codes
Please note:
This function is no longer available. You can generate your own QR codes easily using:
http://goqr.me/
and integrate it with your website as a
Widget/HTML element.
What are QR codes?

QR codes are similar to barcodes. They are white squares that contain black dots. Most commonly, the codes are added to printed cards, flyers, or advertisements and contain links to websites that are activated when someone scans them with the camera on a mobile device. 

How can you use QR codes?
Most often, you would use a QR code to link items in the physical world to locations on the web.
For example, if you were a bicycle shop owner, you could put QR codes on each of the products in your shop. Your customers could then scan these QR codes with their mobile devices. They would be immediately shown a web page that displayed more information about the product, or a video showing the product in action.
Creating QR codes
You can create and print three different types of QR codes with Jimdo:
QR codes that link to your website's homepage,

QR codes that link to any page on your website, or

QR codes that link directly to a

Store Item Element

.
To make a QR code, log into your website and go to Settings > Apps > QR Codes.  Next, add a description, select a size, and navigate to the correct tab for the type of QR code that you would like to make.  Once you have the code, you can print it out directly (perhaps onto stickers or labels), or you can right-click on the image to save a copy to your hard drive. Then, you can add the file to a Word or PhotoShop document for a print piece you are working on.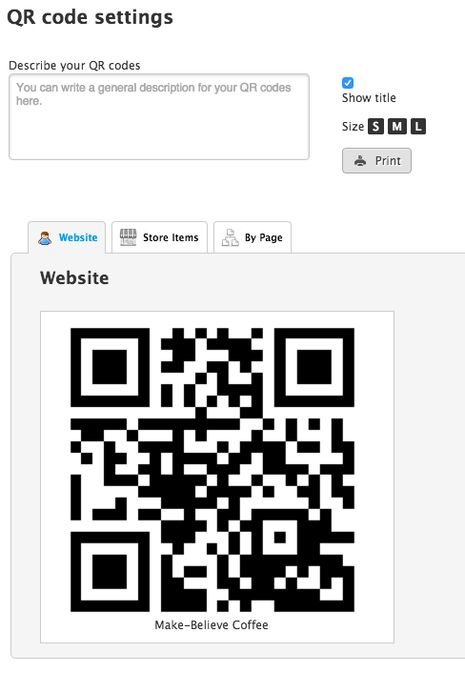 Related articles: