Selling Downloadable Products
You can sell digital goods just like any other product using a Store Item Element. To deliver the digital files to the customer, use a third-party widget or follow the steps of the tutorial below.
For the best experience for your customers, we recommend using a third-party widget like Gumroad or Powr to sell downloadable products. Both options will allow you to configure your digital products on their system and then provide you with a block of code that you can copy and paste into a Widget/HTML Element on a page of your Jimdo website.
The downside of using this method is that those products will not utilize any parts of the Jimdo store (like the inventory or our shopping cart). If you would like to sell digital products within Jimdo, here is a tutorial for how it can be done:
1. Create a Store Item Element for the product
Start by creating a Store Item Element just like you would for selling a physical product. Customers will then be able to purchase your downloadable product.
Obviously, you will want to disable shipping for this product. Click the "... Additional Options" area of the Store Item Element, then uncheck the "This item can be shipped" option.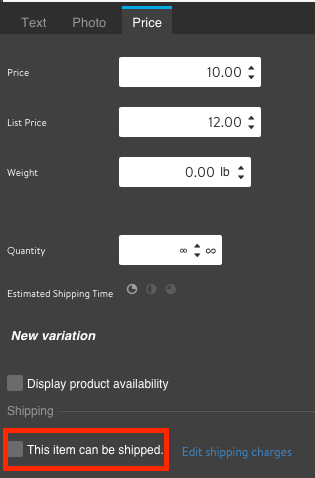 2. Create a page to host the downloadable file
Create a new page in your website navigation for your downloadable product and hide it. You can make it hidden in the navigation by clicking the eyeball icon next to the new page in the Edit Navigation menu. 
Normally hidden pages of your website will only be found if you create a direct link to that page, but to be safe, it would be a good idea to make this page into a Password-Protected Area. 
Next you will want to add a File Download Element on that hidden page and upload your digital product into the element. 
3. Email the download link and password to customers
When someone purchases your downloadable product, you will then email them. Send them the direct link to your hidden page and provide them with the current password. This will allow them to access the page and download the file that they paid for.
There may be situations where the digital file is small enough in file size to simply email it as an attachment. In those cases, you can skip step 2 of this tutorial.
Related articles: