Adding Categories
If you operate a larger online store with your Jimdo website, you may want to consider creating categories for your products and category pages for your website.  Using the Store Catalog Element, this process is easy and does not require duplicating any content.

1. Create your category pages 
Start by going to Edit Navigation and creating a page for each category you would like. In the example to the right, there are category pages for Tea, Coffee, and Snacks.
For best results, we recommend creating a separate page for each actual product that you are selling. You can make these hidden subpages of the category pages.  Click on the eyeball icon to make them hidden and use the right arrow icon to make them subpages. These are where the actual Store Item Elements should be placed, along with additional support content.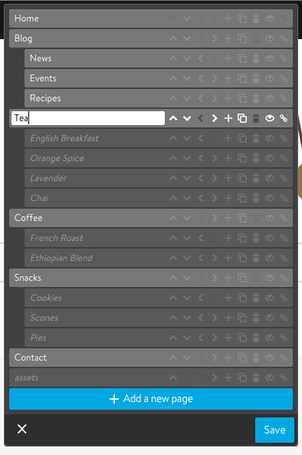 2. Add tags to all of your products
To assign a product to a certain category, use the Tags within the Store Item Element. If you have a store selling five different types of tea, you would want edit each Store Item and add the tag of "tea" to each.
Tags can only be one word, so if you need multiple words, separate them using hyphens like "mens-clothing". Products can have multiple tags, meaning that they can appear in multiple categories.

Maybe you want to have a "featured" tag so that you can automatically promote certain products on your homepage? Or create a gift guide featuring all products under $50? Just add the tags (like "featured" or "under50") and move on to the next step.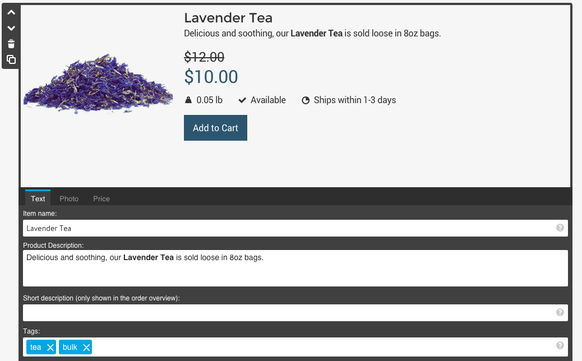 3. Add Store Catalog Elements to each category page
The Store Catalog Element is the key to making the category pages of your site functional. 
Add a Store Catalog Element to each category page and then add the tag that you want featured in that catalog. (You can also add a Store Catalog Element to other parts of your website, like your homepage). 
If you used the "Featured" tag suggestion from earlier, add a Store Catalog Element to your homepage and set it display all items with the tag of "featured".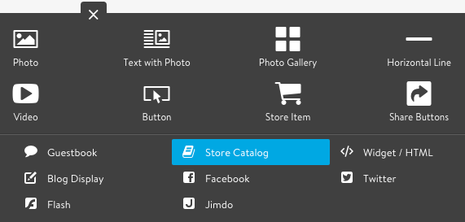 Continuing with our tea example, we have a top level navigation category page for "Tea" and then five hidden subpages for each type of tea. On each subpage, we have a Store Item Element that has been tagged with the term "tea". Then on the category page, we now have a Store Catalog Element that is set to display all products with the tag of "tea".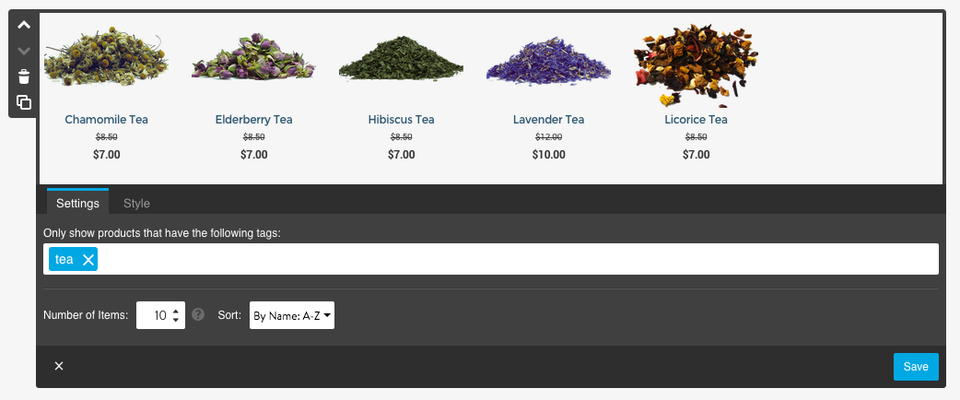 The Store Catalog also lets you set the number of products to display and has a number of different options for how you would like to sort the products.
A separate tab of the Store Catalog settings provides you with a number of different display options to change the look of your catalog.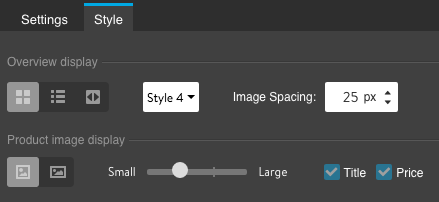 Related articles: