Accepting Credit Cards and Payments
One important step to start your store is turning on a payment method. Turn on the available options by opening the Menu and going to Store > Settings > Payment Options.
PayPal is the only option that will allow you to accept payment online through your website for Pro and Free websites.  Business and Platinum users can accept credit cards using Stripe. There are more options in some European countries with the Payment Options Plus add-on.
Jimdo does not collect a fee from any of your online sales, although PayPal and Stripe do take a small fee to process each transaction.  Neither service charges a monthly fee.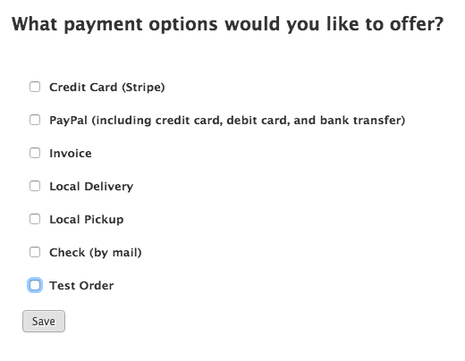 Setting up Stripe
The Stripe payment processor is available for Business and Platinum users in specific countries (for a list of these countries please click here).
Note: The only country not supported by Stripe in our system is New Zeland.
Stripe is the easiest option for collecting credit cards. U.S. businesses can accept Visa, MasterCard, American Express, JCB, Discover, and Diners Club. Australian, Canadian, European, and Japanese businesses can accept Visa, MasterCard, and American Express.
To use Stripe with your Jimdo store, go to Store > Settings > Payment Options and select Credit Card (Stripe) from the options, then click on the Connect Stripe button.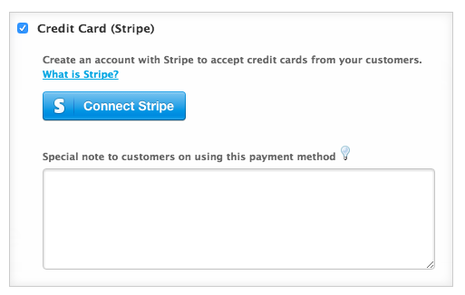 You will then be presented with a detailed form asking questions about you and your company. Complete the questionnaire and click the Authorize access to this account button. 
Your Jimdo store is now connected to your new Stripe account. Any sales will be processed via an SSL secure connection and the money from the transaction will be immediately deposited into the bank account that you specified.

Note:
Stripe is free to use however there are transaction fees. Stripe charges a percentage-based fee each time you accept a credit or debit card payment. The price is the same for all major cards and there's no additional fee for international cards, failed charges, or refunds. You can find out more on
Stripe's pricing page
.
Setting up PayPal
Use the PayPal payment processor to accept all major credit and debit cards. To do so, you need a free Paypal Payments Standard business account (the paid PayPal Pro accounts will not work with Jimdo). 
Once you have a PayPal account, you will need to collect a few special pieces of information called API Credentials and add them to the Payment Options settings.
Use the PayPal API tool to get the necessary information. All you will need to do is go to that link and enter your PayPal email address and password to get the codes. Copy and paste the API Username, API Password, and API Signature into the fields on the Settings > Store > Payment Options section.
Once this is complete, your website will be able to accept all credit card payments. The customer will be taken to a PayPal screen to enter their credit card information at the correct time in the checkout process. This allows your website to use the PayPal SSL certificates and other security precautions.
Test Order
To test that your online store is operating the way that you want it to, activate the Test Order option. Then, you can switch to View Mode and place a test order. You will walk through the entire checkout procedure except for the PayPal payment screen.  
Remember to deactivate the Test Order option after you tweak your settings to your liking.
Related articles: