Statistics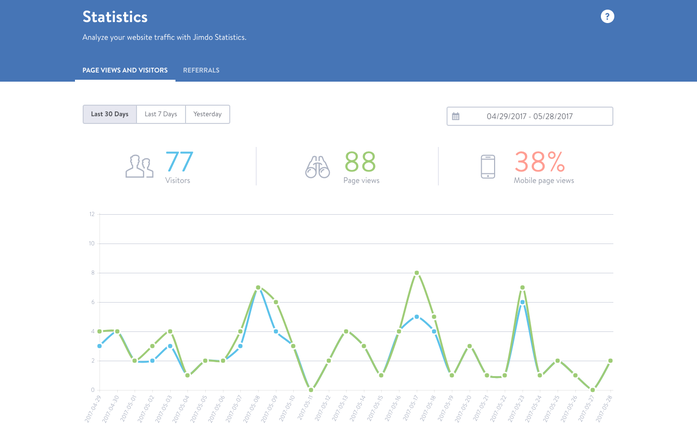 Doesn't look right? We've recently updated this feature. Click here to download a .pdf version of the Support Center page for our previous Statistics view.
Instead of placing a hit counter on your website, we recommend using the internal statistics module described on this page. Although counters and other badges were popular in the early days of personal and professional websites, their popularity has declined. It is now very uncommon that professional websites display statistics about the number of visitors on their pages.
If you're activating statistics for the first time, you'll need to wait 24 hours before you will see any data displayed. 
When opening the Statistics menu, you'll notice two tabs towards the top of the page entitled Page Views and Visitors and Referrals:

Once enough data has been collected, you can click these tabs across the top of the statistics window to see your website's traffic measured in different categories.
Page Views and Visitors
Page Views are the total number of pages your visitors viewed and Visitors are the number of different people who visited your site. At the top of this section, you'll find a visual analysis of the direct traffic to your website. You can click on the buttons to find out more information regarding your website's traffic within the Last 30 days, the last 7 days or Today (the last 24 hours):

If you'd like to see your website's traffic over a greater period than 30 days, you can also adjust the calendar on the right side as desired: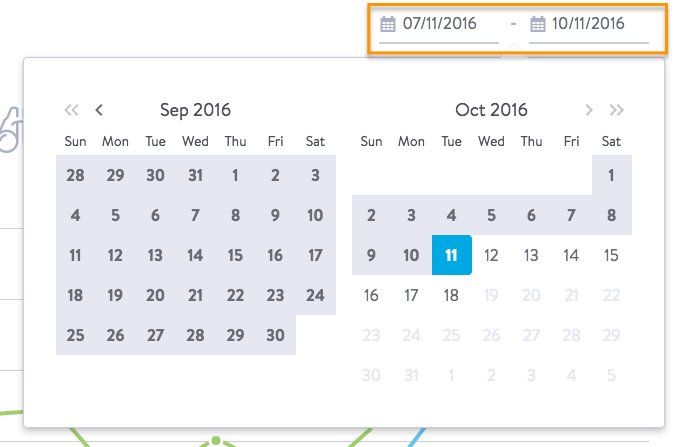 The data is arranged by number of visitors along with the total number of page views within the chosen time period, and also gives a percentage of Mobile Phone views. Highlighting a point on the graph with your cursor will bring up the total number of Page Visitors and views for that day: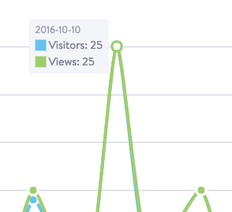 Underneath the graph you'll also see a list of your Most Visited Pages, identified by the number of visitors and the total number of views: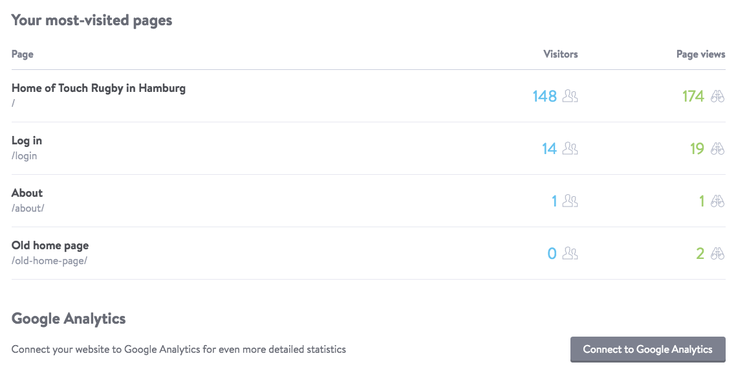 At the bottom of the Page Views and Visitors tab, you'll also see an option to connect to your Google Analytics account, if you have one that you'd like to use with your website. Click on the link to add the tracking ID from your Google Analytics account. You'll then be able to see your website's statistics directly in your Google Analytics dashboard:

The Referrals section provides information about the traffic that was directed to your website from outside sources. When you click on this tab you'll see in a list format what websites brought traffic to your own, and how much traffic they brought you. Same as the Page Views and Visitors section, you can also click on the buttons to find out more information regarding your website's traffic within the Last 30 days, the last 7 days or Today (the last 24 hours). A calendar option for an extended range of statistics is also available: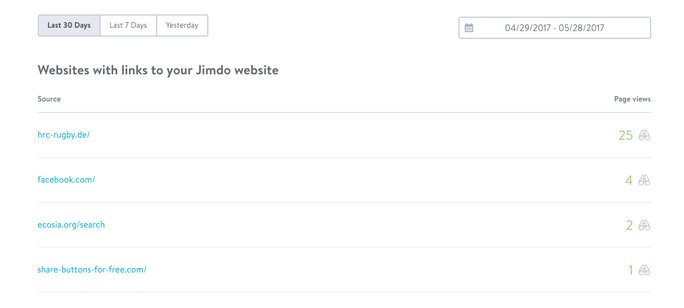 Related articles: