Manage Your Sitemaps
A sitemap (sometimes site map) is a list of the accessible pages on your website. Sitemaps typically exist in one of two formats: XML and HTML. Generally, XML sitemaps are used to help search engines crawl a website, whereas HTML sitemaps are used to help visitors to a site see how the site is organized. 
XML Sitemap
An XML sitemap is used to tell search engines what pages are on your site, how they are organized, which pages are most important, and how often each page is updated. 
You can find the XML sitemap for your website by visiting www.yoursite.com/sitemap.xml (or yoursite.jimdo.com/sitemap.xml). Submit this sitemap to Google and Bing to optimize your site for search.
Including hidden pages
By default, pages that are hidden in your Navigation will not show up in the XML sitemap. JimdoPro and JimdoBusiness customers can include hidden pages by clicking on the Menu and going to SEO > Settings > SEO. Under the Website tab there's a checkbox to 'Include hidden pages in My Sitemap'. To do so, simply activate and click Save.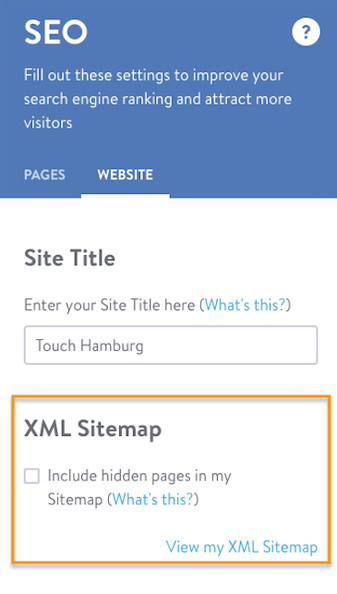 HTML Sitemap
An HTML sitemap helps visitors to a website learn about the site's structure, i.e. where various pages are located on the site. Jimdo automatically creates an HTML sitemap for you that can be found at www.yoursite.com/sitemap (or yoursite.jimdo.com/sitemap). You can also choose to link to the HTML sitemap in the footer of your website. 
Related articles: