Jimdo Live Chat App for Android
Fast. Personal. Interactive.
With Jimdo's Live Chat app for Android, you can start a free live chat with your website visitors directly from your smartphone. Find out more below.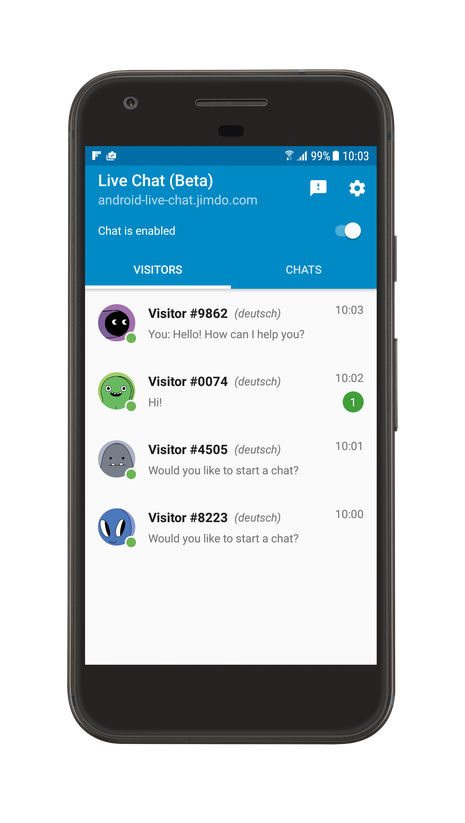 If you already have a Jimdo website, then that's great! You just need to download the Live Chat app and sign in with your Jimdo website login details to the Live Chat app. 
After signing in, go to Settings to activate Chat and to enable Notifications. By doing this, you'll get instant alerts when you have a new visitor on your website so you can start a live conversation.
Our Live Chat app lets you offer live and personalised support to your customers. Use it to promote your store sale and boost customer satisfaction and relationship, all while you're on the go.  

You can also customise the color of the Live Chat app chat to match to your website color scheme.
Note: This is a beta version of the live chat app that works with Android version 5.0 and higher. Let us know what you think, and we'll work to make the app even better.
You can share your thoughts and feedback directly from the Live Chat app. When you're signed in to the app, go to the Speech bubble which you will see on the top right corner, left of the Settings cog. Click on the Speech bubble to give us your feedback.