Jimdo Analytics App for iOS
Keep track of your website statistics at all times.
With the Jimdo Analytics app for iOS, you can keep track on what is going on with your Jimdo website along with keeping an eye on current visitor numbers. Our Jimdo Analytics app connects to your Google Analytics account and shows you only the most important data for tracking your Jimdo website traffic on the go.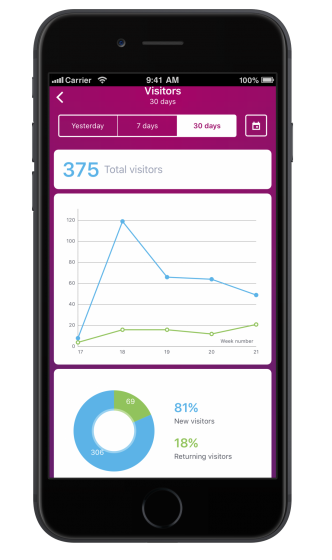 If you already have a Jimdo website, then that's great! You just need to download the Jimdo Analytics app from the App Store and sign in with your Jimdo Account login details to the Analytics app. 
With this app you can set up a personalised dashboard that you can use from your mobile phone. You can get answers to questions such as: Who is my target group? Which pages on my website are most popular? How are my visitors using my website? What are the top 5 channels for my website traffic? 
You can also receive notifications about new data and weekly reports which you can use to optimize the performance of your website.  
Please note:
In case you don't have a Google Analytics account connected to your Jimdo website, you'll need to do that first from a computer.
See here for details.
Good to know:
This is a beta version of the Jimdo Analytics app that works with iOS 10.0 version and higher. Let us know what you think so we can make the app even better.
You can share your thoughts and feedback directly from the Jimdo Analytics app. When you're signed in to the app, go to the Tool icon which you will see on the top left corner. Click on it to give feedback.