Moving to Jimdo
Step 1: Sign up for a Jimdo website.
Go to jimdo.com, click on Create Your Free Website, select a template, enter a name for your website, your email address, and a password for your site, then click "Create my free site!"

Step 2: Choose a template.
The template you choose will determine how your site looks, where things are located, and how your visitors will find information on your website. You can choose a template by opening the Menu and navigating to Design > Main > Templates.
For more help with templates, refer to the Template article, or try our Template filter.

Step 3: Style your site.
Once you've chosen a template, you'll want to adjust the style of it. Choose your fonts, pick out great colors, and adjust settings for your online store. All style options can be found by opening the Menu and navigating to Design > Main > Style.
Read more about styling your website.

Step 4: Add a background image.
Most templates feature a space along the top, or behind your content, where the background of your website will show up. Upload a breath-taking panorama for a stylish introduction to your website. 

Get more information about background images by checking out the Backgrounds article.

Step 5: Recreate your pages.
After you've figured out how you want your site to look, we recommend recreating all the pages you had in your old website. You can use the same names like About, Contact, Blog, etc. Whatever you had before can be recreated with Jimdo.
Hover over the existing navigation links on your new site and click Edit Navigation to start adding pages.
Refer to the Navigation article for more help with your site's structure, including adding, moving, renaming, and deleting pages.
Step 6: Add your text and photos.
The last step in the process of moving to Jimdo is to add your content. You should have all the text and photos you used with your old site still on your computer. You can copy and paste the text in to new Text elements and upload your images to Photo or Photo Gallery elements.
There are a number of other elements you'll want to try adding to your Jimdo site as well. Read more about Using Elements and see how you can add Videos, music, social media, and other great elements to your new site.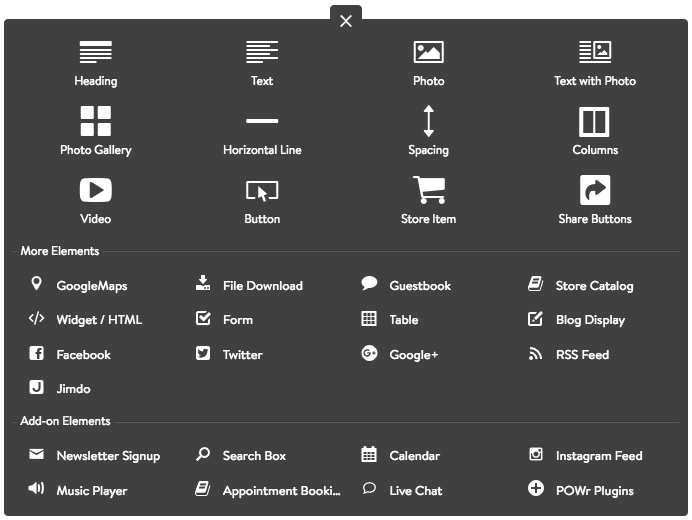 Step 7: Connect your domain.