Accessing Jimdo Webmail
Important: Jimdo cooperates with Rackspace. To find the relevant instructions, please click here.
After creating your email accounts through Jimdo, you have multiple options for accessing your email. No matter which clients you set up for accessing your email, you will always be able to access your Jimdo Webmail accounts at:
If you experience problems accessing the https version of webmail, try http://webmail.jimdo.com/ instead. This version is not as secure, but will be fine if you're using your personal computer and a private internet connection.
We provide email accounts through our partner, Rackspace. If you are on a shared network (e.g. at school, work) or go online using public internet connection (e.g. coffee shop, library), you might want to consider accessing your email through an email client, such as Outlook or Apple Mail.
Settings for your email client
To set up your email client using a secure connection, use the following settings:
POP3 with SSL
IMAP with SSL
SMTP with SSL 
secure.emailsrvr.com
secure.emailsrvr.com
secure.emailsrvr.com
Alternatively, you can click on the below button to be directed to our Email set-up wizard:
You can choose between using the IMAP and POP settings. Most people prefer using the IMAP settings. With IMAP, a copy of each email you receive is saved on Rackspace's servers. That means that you can still see emails in your webmail account after deleting them from your computer. With POP, the server deletes copies of your emails as soon as you download them to your computer, eliminating the option to recover lost emails through Rackspace.
Not using a secure connection (e.g. because of a firewall)? No problem, you can use the following settings to send and receive emails over an unencrypted channel:
pop.emailsrvr.com
imap.emailsrvr.com
smtp.emailsrvr.com
Note: If you have trouble setting up your email client, log in to Rackspace's Support Center using your webmail address and email password to get detailed instructions for each client and device you are configuring.
Restoring deleted email
Accidentally deleted an email you still need? Don't worry, you can easily restore deleted email messages within the first 14 days after you deleted it. Log in to your Jimdo webmail account and click "Trash" in your Email Folders, then select "Recover Deleted Email".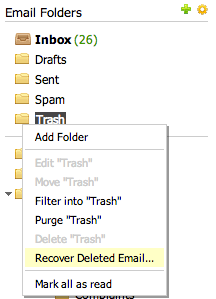 Spam violations
Our email partner, Rackspace, considers sending the same email or multiple messages with identical content to more than 200 recipients spam. Rackspace will block this on their servers. If you'd like to send out a newsletter or an informational email to more than 200 recipients at once, we recommend using an email marketing tool like MailChimp for that. 
Related articles: