Mobile View for Old Jimdo Templates
If you're using an older template that is not yet responsive, mobile visitors will see a standard mobile version of your template instead. The mobile skin is a simplified layout of your websites' content, designed for speed, visibility, and search-engine friendliness. 
Note: We highly encourage you to update to our new, mobile-responsive templates. They will give your visitors a better web experience, and give you access to all of Jimdo's latest features.
The Mobile View is turned on by default. If you would prefer to disable it, you can do so by going to Settings > Mobile > Mobile View. Disabling the the Mobile View will display the full standard website to all visitors. However, disabling this view can make your website difficult to read on small screens and can also have negative effects on your website's search engine rankings. 
Note: The old Mobile View will have a fixed set of colors, depending on the template you are using. These will not always match what you have set in your background or styles. If you would like to override the default colors of the mobile template, you can use this tool to generate a snippet of code that can be pasted into Settings > Edit Head. Or you can update to a responsive Jimdo template, which will give you full customization options.
The Mobile Express Page
When someone accesses a website on their phone, they are often looking for specific practical information right away. On old Jimdo templates, you can present this important info to your visitors with the Mobile Express Page.
Pro and Business package customers can turn on and customize the Mobile Express Page for a website by going to Settings > Mobile > Mobile Express Page. 
With the Mobile Express Page activated, visitors arriving at your website on their mobile device will be shown an overlay screen with the information you set. They can click the X icon to be taken to the your website's homepage at any time.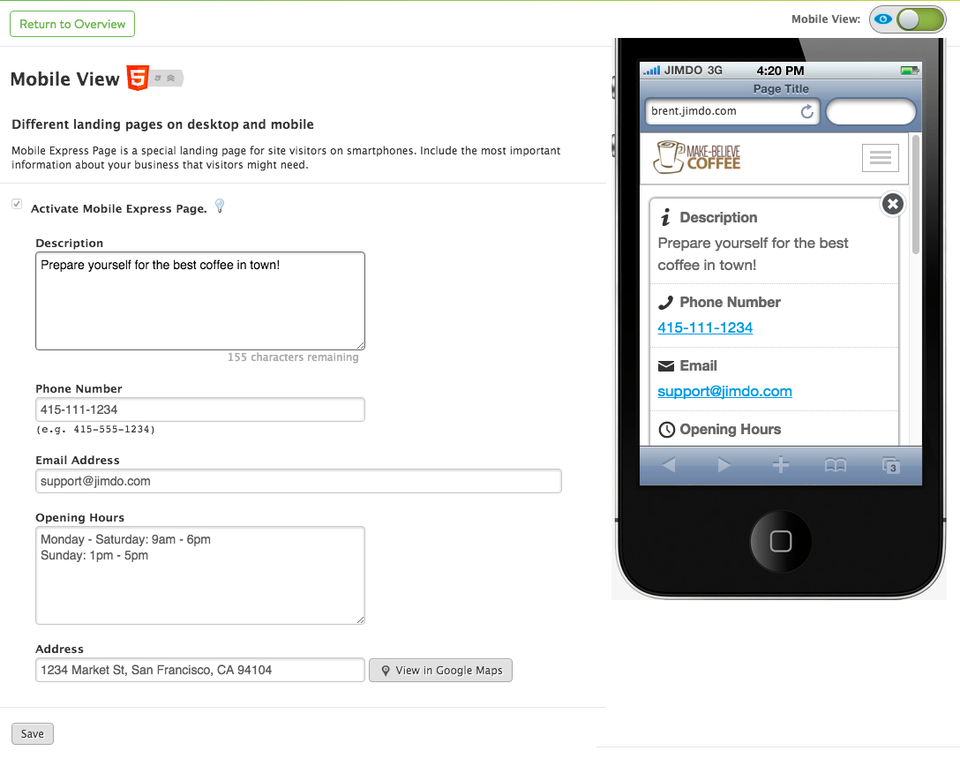 Related articles: