Edit Footer Links
There are a number of links that appear at the bottom of all Jimdo websites by default. Our system provides these to make it easier to fulfill any legal requirements your site may have. The default links are:  
About
Payment and Delivery Information
Privacy Policy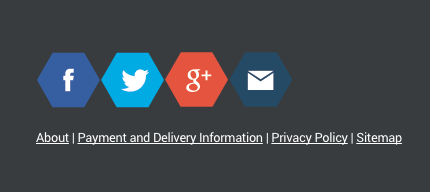 If you don't need these pages, or if you don't want to display these links and pages in the footer, you can hide them.
Open the Menu and go to Settings > General. Here, you can enable or disable each link using the checkbox under the 'Footer Content' subheading.

Hide login link
Another link you will see in the footer is the one to log in and edit your website. While this link makes it really easy to log in quickly, you might not want your visitors or the world at large to see it. Pro and Business package owners can hide this link.
Open the Menu, navigate to Settings > Website > General and uncheck the Login option. After your login link is hidden, you can still access your site by adding "/login" to the end of your web address. So for http://www.yourwebsite.com, you would go to http://www.yourwebsite.com/login.
Once you are logged into your site, you will see the Edit/View options in the bottom right corner. Logging out will again hide the login link.
About page
A link to an About page can be found in your website's Footer, containing Jimdo advertising on all Free websites:

Pro and Business package users have the option to remove this Jimdo advertising from the Footer.
This can be done by opening the Menu, clicking Settings > Website > General and then unchecking the About check-box.
If you're a JimdoFree user, you'll need to Upgrade to be able to remove this box from your website.
Copyright notice

On the same screen, you also have the ability to enter some custom text or basic HTML. This is helpful if you'd like to place a basic copyright message or other small bit of text at the bottom of your pages. To add this message, just input the text into the Copyright Notice field.
Doesn't look right? We've recently updated this section. Click here to download a .pdf version of the Support Center page for our previous Site Admin interface.
Related articles: