How to Choose a Jimdo Template
You're starting a brand new site, or maybe you're giving your current site a makeover. The first step is to pick out the right template. The template you choose will act as the foundation for your whole website, and determine the location of your Header, Navigation, Content Area, and Sidebar. 
There are over thirty Jimdo templates to choose from.

Each template is available to all websites, and has all features. This means that there's no "restaurant" template or "dentist" template—you can use whichever template you like! 

Every updated Jimdo template is responsive, meaning it will automatically adjust to fit desktop and mobile devices! 
Note: Still using an old Jimdo template? In August 2014, we updated all our templates and added lots of new options. While you can keep using old templates, we encourage you to try out the new ones, especially since they support many of our new features.
To find out what kind of template you have, click on Templates in your Site Admin. Your current template will appear in the top left corner. If it's named after a city, like Miami, it's a new template. If it's named with a letter and numbers, like F4242, then it's an old template from before 2014, and it's time to update!
The parts of a Jimdo template
Each Jimdo template is made up of the following parts:
Header (Hero area): This will show up at the top of every page of your site. It's usually the place for your logo and website name.
Navigation: The navigation is the menu that directs people to different pages of your site.
Content Area: The content area is the "body" of your website, and the place where you will add most of your different elements. Each page of your website can have a different content area.

 

Sidebar: The sidebar is your secondary content area, usually a narrow strip on the side of your website where you can add additional elements. The sidebar will show up exactly the same on every page of your site. It's typically where people put contact information, social media links—anything important enough to show up on each page. Depending on the template, your sidebar can be on the left, right, or even on the bottom (meaning that your "sidebar" might actually be a "bottom bar" or "footer").

Once you get the hang of the different parts of a template, you'll start recognizing them in different configurations. Some templates have large header areas, others have small ones. Some have prominent sidebars, others are more understated. When you decide which pieces you want, it's easier to pick the template that's right for you.
Questions to ask yourself when choosing a template
Now that you've got the hang of the different parts, asking yourself these questions will help you hone in on the right template. 
What do you want your header to look like?
If you have a logo you love, you'll want a template with a large header and logo area. Templates with large headers (also called "hero areas") let you show off large, high quality images. If you don't have a logo or you want something more understated, then a template with a small header would be just right for you. 
Some templates with large headers: Barcelona, Amsterdam, Cairo, Shanghai, Rome, Zurich
Some templates with small headers: Dublin, Lima, Milano, Singapore
Where do you want your sidebar to go?
Remember that your sidebar shows up the same on every page of your website. If you want one that is unobtrusive, or if you want to have a wide content area, choose a template with a sidebar on the bottom so it doesn't get in your way. If you want a sidebar that's easy to see at all times, choose left or right.
If you want no sidebar at all, that's fine too. Just choose a template with a bottom sidebar and leave it empty. For more details on sidebars (with real-life examples), check out our blog post How to Use a Template with a Left or Right Sidebar.
Some templates with left/right sidebars: Hong Kong, Lima, Madrid, St. Petersburg, Verona, Helsinki
Some templates with bottom sidebars: Barcelona, New York, Havana, Zurich, Berlin
Note: If you choose a template with a sidebar on the left or the right side and you leave it empty (if you don't add any elements to it), it will show up as a big empty space on your website. To avoid this, either add elements to your sidebar or choose a template with a sidebar on the bottom.
How will people navigate your site? 
The navigation you choose depends in part on how many pages and subpages your website has. If you haven't done so already, this is a good time to map out your site on a piece of paper so you know which pages you need and how people will get there. If you have only a few navigation points, a horizontal navigation bar across the top will look great. If you have more than that, you might consider a vertical navigation with dropdowns where you can put subcategories.
Some templates with horizontal navigation menus: Barcelona, Zurich, Riga, Prague
Some templates with vertical navigation menus: Havana, Milano, Lima, Dublin
Templates for different kinds of websites
You can use any Jimdo template with any type of website. In other words, there aren't particular templates for restaurants, photographers, or bloggers. That said, here are a few suggestions to keep in mind for different kinds of websites:
Templates for blogs
Blogs usually need sidebars—to hold your archives, recent posts, a search box, or social media buttons. If this is the case, choose a template with a sidebar on the left or right side.




If you want your posts to have a lot of space to show larger images, you could choose a template with a wider content area and a sidebar on the bottom.



Suggestions: Reykjavik, Milano, or St. Petersburg if you want a sidebar on the left or right. Singapore, Berlin, or Zurich if you want a wide content area.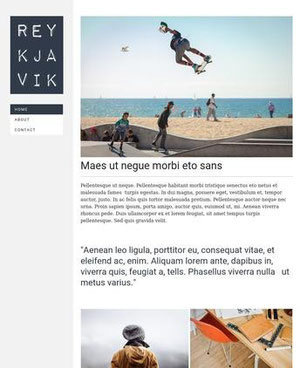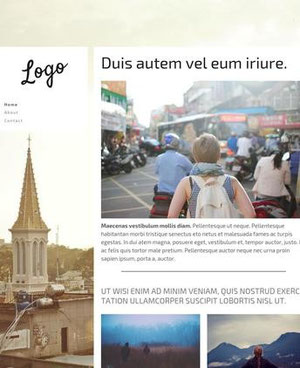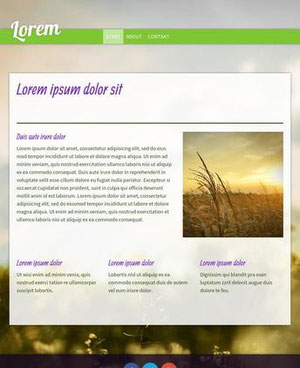 Templates for portfolios and artwork
If you're looking for

a template

 to display your works of art,

choose one

 with a wide content area and a sidebar on the bottom. 



Show off your high-quality images by using a template with a full-screen background. You can even set the background to rotate through a group of selected images.

Usually a portfolio site doesn't need very many pages or subpages. If this is the case, you might like a template with a simple horizontal navigation across the top or a slide-in navigation menu that won't get in the way. 
Suggestions: Rio de Janeiro, Cairo, Zurich for a wide content area. Copenhagen, Sydney, or Cape Town if you want a slide-in menu.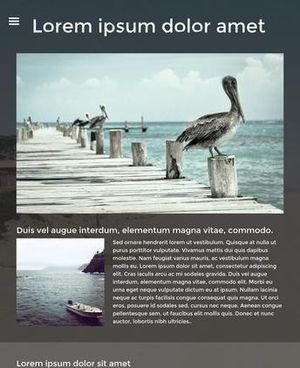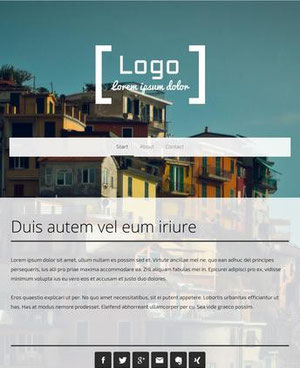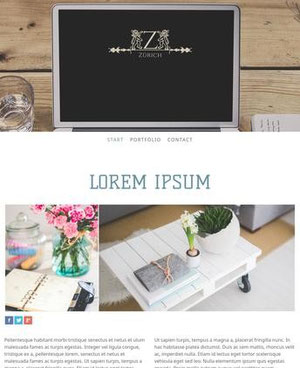 Templates for online stores 
Online stores tend to need different categories and a way to organize lots of product pages. 

Use a template with a secondary navigation, or choose a dropdown navigation bar that allows you ample room for subpages.
Templates with breadcrumb trails also help users know where they are and which category each item belongs to.
Templates with large header areas at the top are great for showing off the latest product.
Suggestions: Bordeaux, Rome, Malaga, Melbourne, Miami, Chicago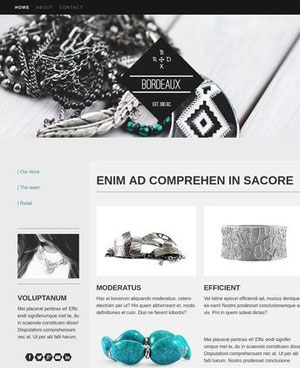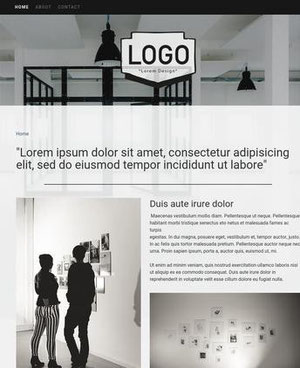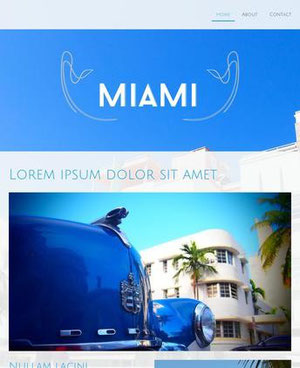 Templates for businesses
Whether you're a restaurant posting your menu and opening hours, a salon posting your contact information and booking widget, or a store posting your locations and latest products, it's a good idea to make your important information visible to visitors right away.
Choose a template with a sidebar on the left or right where you can put your basic information. A sidebar on the bottom can work too, but it will take customers a few more seconds to scroll down to see it.

You should also stick with a short navigation menu, either horizontal or vertical.

You might also skip templates with slide-in menus. It's just one more step that stands between your customers and the information they want.
Suggestions: Amsterdam, Havana, Lima, Prague, Reykjavik, Madrid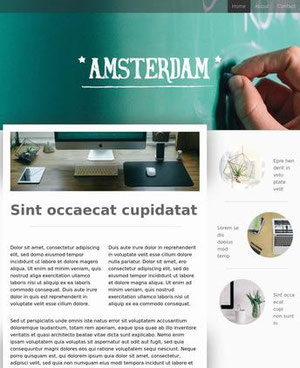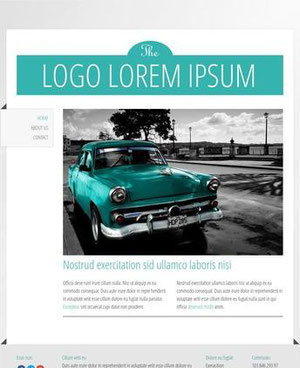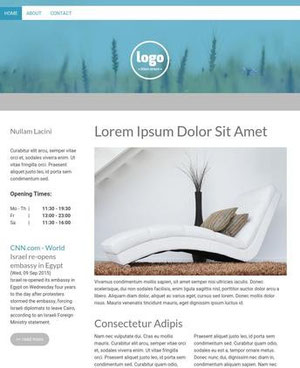 More information about our templates
Here's additional info about some of our most popular templates, with examples:
Related articles: