Dashboard
Dashboard-In it you will see a dashboard with your website / websites. A preview Header of each of your websites is then shown. Just choose the website you want and open or edit your website. If you just click on the website, it will automatically take you to the Menu Editor of that website. To go back, just choose the "Dashboard" option under "My Account" in your Menu.
If all of your websites aren't listed you can just click on "connect a website" put in your domain name and password as you would normally, then it will be attached. So from then on your login screen will automatically take you to your user account instead of the individual website.
In addition your profile- This is where you can upload a profile photo and connect your Facebook or Google account. If you're already connected to one of these platforms then your photo will be automatically uploaded from there. You can, of course, change it at any time. The photo is displayed in the dialog with our support.
Lastly the Log out- With a click you can—well, you know already ...
Adding Jimdo Websites
The tab websites in your Dashboard will show you an overview of all the Jimdo websites you've previously connected. Of course, you can always create new Jimdo website or add other existing websites to your Dashboard. 
To add another Jimdo website to your dashboard, follow these steps: 
Sign in to your Dashboard using your e-mail address and password
Click on the Connect a website button (see image below) 
Enter the domain of your existing website and the associated password - these are the same credentials you have used to log in to the Jimdo website
Click Save
After a successful login, you'll see the Jimdo website displayed as a tile and it's background image in your dashboard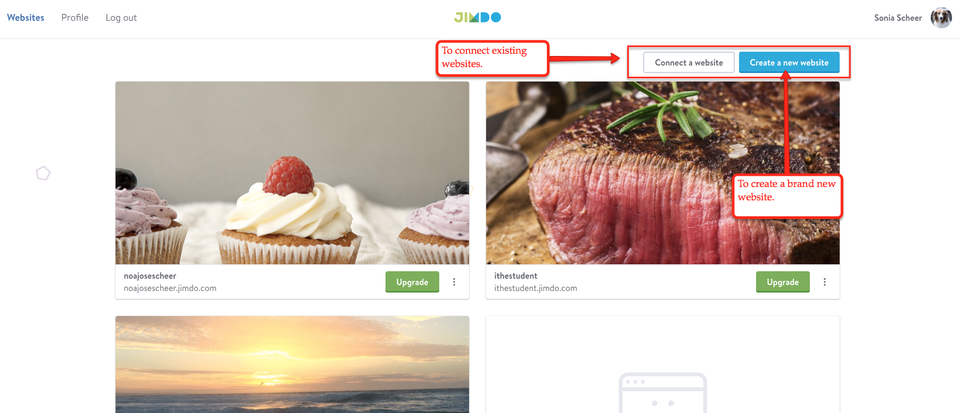 In addition - you can click on the plus symbol of an empty website slot to create a brand new website (see the image below).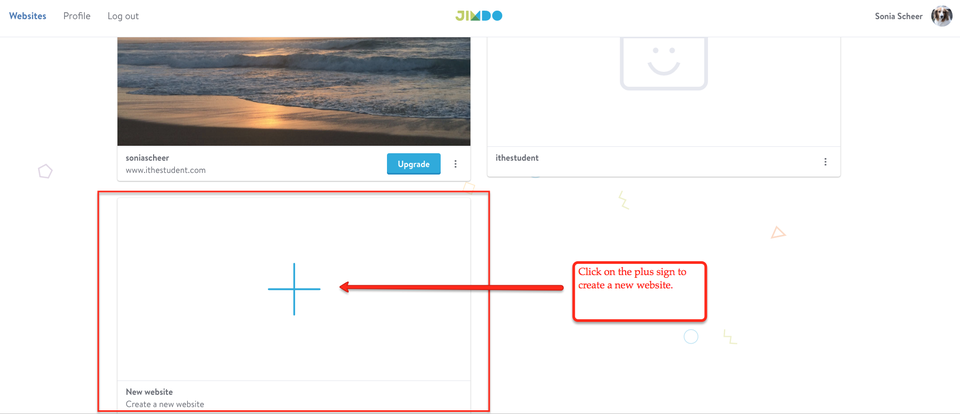 Edit Jimdo websites
From the Dashboard, you can quickly and easily access the editing mode of your connected Jimdo website. This works as follows:
Log in to your Dashboard.
Hover the mouse over the tile of the web page you want to edit in the Dashboard.
You will then see a pencil icon on the center of the tile - click on it.
You will then be directly in edit mode for the chosen website and can move forward with any edits you wish to make.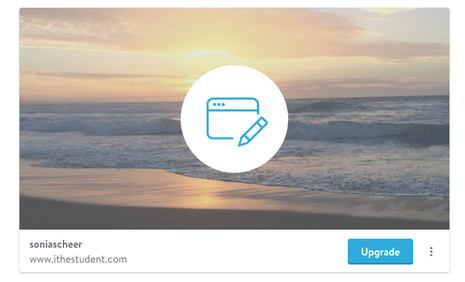 Update your Profile
For all of your connected Jimdo websites, you now have a global profile that makes maintenance and updating easier and faster. Go to the tab profile in the dashboard and make the following settings: 
Profile Image
Upload a profile picture and give your Jimdo Dashboard a personal touch.
Change Password
Change the password of your Jimdo Dashboard with just a few steps.
Keep your email address up to date
Change/update your e-mail address when ever needed.
Social Media
Connect your Facebook and Google+ accounts to your Jimdo Dashboard and sign up with it.
Enter your name
Provide your first and last name - so we can address you personally. 
Subscribe to our Newsletter
Sign up/Unsubscribe to our newsletter.
Deleting your Jimdo Dashboard Account
You can only delete your Dashboard if you have set all your websites to a JimdoFree account. To delete your Dashboard please follow these steps:
Log in to your Jimdo Dashboard Account here.
Select Profile
Click on Delete Account
Confirm account deletion by entering your email address.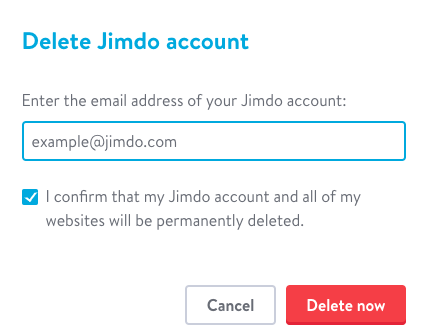 Related articles