How to Make Recommended Posts
When a reader reaches the end of a blog post, hopefully they'll want to read more. Putting a list of recommended posts at the bottom of your blog post can keep readers clicking through your material, and keep them on your website longer.
Start by adding a Heading Element to the bottom of your blog post
At the bottom of the blog post, add a new Small Heading Element. You may want to also place a Spacing Element and/or a Horizontal Line Element between the bottom of the post and the heading. Type something like "Related Posts:" or "Recommended Articles:" and hit Save.
Option 1: Add a Text Element and make a list
There are many different ways to present your articles. The fastest and easiest way is to add a Text Element and then make a bulleted list of titles. You will need to type out the titles of a few different blog posts that you think the reader would also be interested in.
Next, highlight each title and make it a link to the correct blog post. This is what we do in the Jimdo Support Center. 

Option 2: Add a Columns Element with several Photo Elements
The other common option for displaying related posts is to use a series of thumbnail images.  This method takes a bit more work. You will want to make sure that all the images you prepare are the same size. 
Start by adding a Columns Element with three columns. Next add a Photo Element to each column, and then add a Text Element either above or below the image with the name of the blog post.  Finally, make both the Photo Element and the Text Element into links that point to the correct blog post.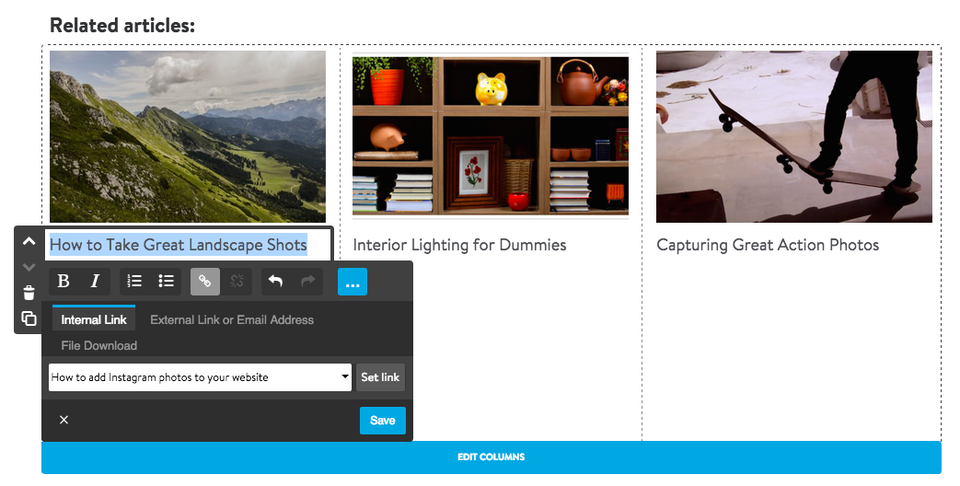 Save time by copying existing blog posts when writing future posts
Once you have a good system of recommending posts, stay consistent by copying existing blog posts instead of starting new ones from scratch. That way your recommended post set-up will already be ready and waiting at the bottom of each post, and you can just fill in the correct titles and links. This will save you a ton of time and make your website look more professional.
Related articles: