Displaying Blog Posts
Automatic Blog Page
As soon as you activate blog on your Jimdo website, this will automatically create a new page in your Navigation Menu named Blog. This blog page will show your published blog posts as teasers. You can read your complete blog post by clicking on the teaser. This is great for your website as you don't need to worry about creating a new page for your blog posts on your website.
If you don't want the Blog page on your website, you can deactivate it. You'll need to open the Menu and go to Blog. Click on the Status section and flip the switch next to "Activate blog page" to turn it off.
Then as an alternative, you can use the Blog Display Element to display your blog posts. We'll discuss it in more detail here:
The Blog Display Element
The Blog Display Element is an alternative way of displaying your blog posts on your Jimdo website. If you've deactivated the Blog page on your website, you can still display your blog posts using the Blog Display Element.

The Blog Display Element is very flexible and gives you options to customize the way that you share your posts with your readers.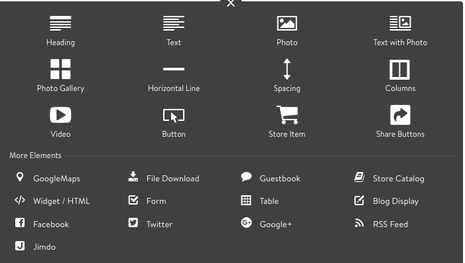 You can add as many Blog Display Elements as you like to your website and each one can show different blog posts, depending on the tags you set. For example, you could use one Blog Display Element to show teasers of your three most recent blog posts on the bottom of your homepage or you could use it to create your Blog archives. 
It is important to understand that your actual blog posts live in a completely different "flow" than the Blog Display Element or any other part of your Jimdo website. You can edit your blog post either from the Blog page or you can go to the Blog button in the Menu and then make your change. Deleting it will only be possible from the Blog button in the Menu.  
Since the Blog Display Element is a bit different than the other Jimdo Elements, it does have one unique constraint: you can't add a Blog Display Element to a Columns Element or place one within a blog post.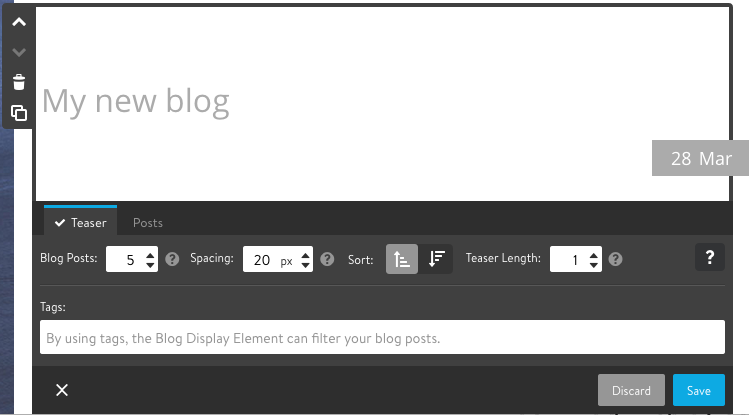 Your Blog Display settings
To best understand Blog Display, let's break down the settings that you see when adding or editing the element. There are two main options (displayed as tabs). You must choose to display either just the beginning of each blog post (an excerpt or teaser) or the entire post.
Posts tab
Selecting this tab will display the entire blog post in the Blog Display Element. That way, visitors can see the entire post without clicking through to the actual blog post page. On the other hand, visitors will still need to click the headline of the blog to leave a comment.
Teaser tab
Select this tab to just display the beginning of each blog post and then a "read more" link. 
Blog Posts
This tells the Blog Display Element how many posts to show. You can set this to be 1 to just show the most recent blog post, or you can display a maximum of 100 posts. Keep in mind that displaying a large number of posts on one page can slow down your website, especially if you are displaying full posts instead of teasers.
Spacing
Use this option to set how many pixels of space should separate each blog entry in the display.
Sort
This is a two-way toggle where you can set whether you display the newest post first or the oldest. Traditionally blogs display the newest post first.
Teaser Length
This is where you can set how much of a teaser you show for each post. Set to the number of elements you want to display from the blog post. Your blog posts should be comprised of many elements, but sometimes new users try to make the entire blog post inside of one Text Element and then get confused why the teaser shows everything.
If you want just a one sentence description to show up for a teaser or excerpt, just make a separate Text Element that is only one sentence long at the top of your blog post. If you place another Text Element directly beneath the first with more text in it, the difference won't be visible to readers, but the Blog Display Element will "know" to only display the first Text Element as your teaser.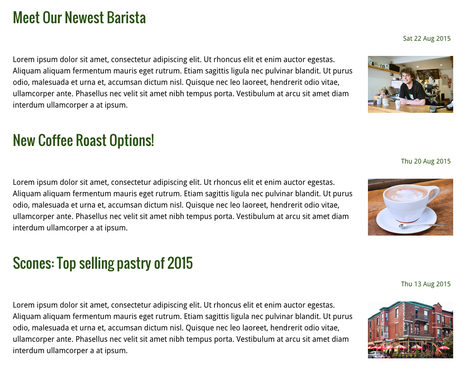 You can also set the teaser length to be 0, meaning that just the title will display in the Blog Display Element. Another option is setting the teaser length to 1 and making the first element on each blog post be a Text with Photo Element. If you are consistent with the size that you make your image and the amount of text you use, you can create a very nice looking array in your Blog Display Element.
Tags
The tags field in the Blog Display Element is one of the keys to its flexibility. You can use tags to create categories for your blog posts or even use it to make an archive system. Leave this field blank to show all blog posts, or enter the name of a tag to only show posts with this tag.
Styling the Blog Display Element
In addition to all the settings you can change above, you can also use the Style Editor to customize the design of your Blog Display Element so it matches the rest of your website. 
To start, open the Menu and click on Design > Style to open the Style Editor. Then, click on the different parts of your Blog Display Element to change them:
Post Title: Change the font, font color, font size, font style, alignment, and capitalization.
Date Stamp: Change the font size, font color, and background color. 
Teaser Button: Change the font size, font color, background color, border color, border size, and border radius of the "Read More" button.  
Promoting blog posts with hyperlinks
A very important thing to remember about blog posts is that after they are published, each one is essentially just another page of your website, complete with its own URL. 
This means that you can link to it like any other page of your website (or any other page on the entire web). So what's the benefit in that?
Again, the answer is flexibility. Try some of these options:
Display a list of text links in a column or sidebar with a small heading above it advertising your latest posts.
Make a large feature image with text rendered on it (you could try a free graphics resource like Canva to create your own), place it at the top of your homepage as a Photo Element, and link the image to your most recent blog post.
Create feature images for each blog post, and place the images in a Photo Gallery Element. Set the Gallery to display in Slideshow mode. Now make each image into a link to the corresponding blog post.