Blog Post Commenting
Using Jimdo's blog comments
You can choose between two commenting systems for your Jimdo blog. When you log in to your website and go to Menu > Blog > Settings > General, you can either choose Jimdo or Disqus as your commenting system. 
When you choose Jimdo as your commenting system, you'll see your comments at the bottom of your blog post. 
For a more advanced feature like verified identity or threaded responses (being able to respond to a particular comment instead of just adding a response at the bottom of the list), you can use Disqus. It is a third-party system which is now integrated in our website builder. You'll find a step-by-step guide on how to set up Disqus below. 
Alternatively, you can also choose Facebook. (More details below)
When you go to Menu > Blog > Settings > General, you'll find a global switch to turn comments on/off for all new posts along with a checkbox under it to apply it to existing posts. Activating it will let your visitors comment on all your blog posts. 
You can then choose to activate or deactivate this setting for individual blog posts. To deactivate comments on a blog post, go the Advanced tab of the blog post to flip the switch off for 'Allow comments'.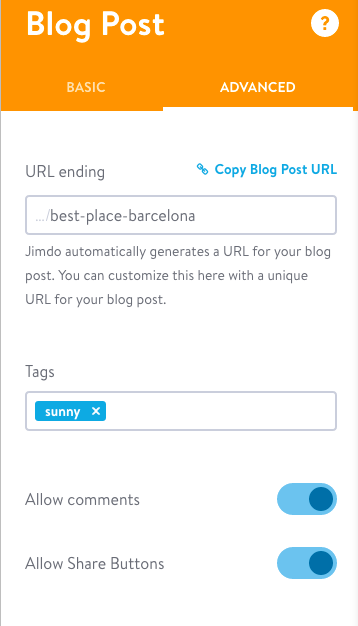 Moderating Jimdo Comments
When you have the Jimdo commenting enabled for a blog post, you can click on the Comments block that appears at the bottom of your post to access the settings. This is where you can choose how you want to moderate comments, receive email notifications, change the order in which comments appear, and more.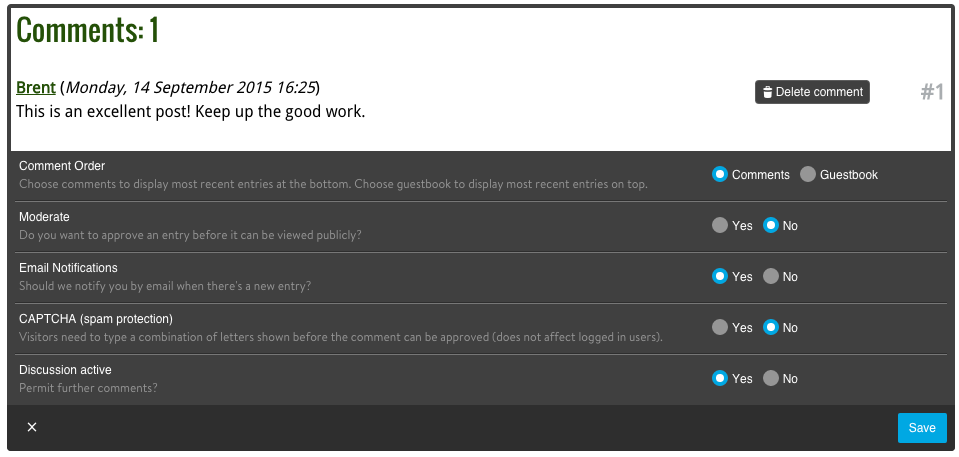 By default, when a visitor leaves a comment, you will receive an email alert.
A visitor must click into the actual Blog Post Page in order to read the comments.
There is no way to modify the visible and required fields of the comment form.
Using Disqus commenting on blog posts
Disqus is an advanced comment system that can be used for your blog posts on your Jimdo website. Disqus features include:
Threaded comments

Easy comment moderation

Comment ranking

Commenters can login via social media sites

Commenters can follow conversations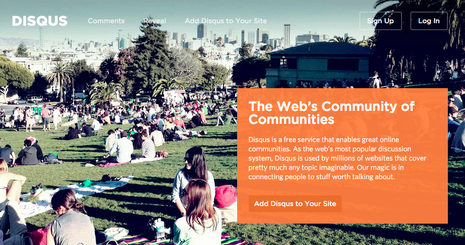 Note: As with any external services you integrate into your Jimdo Site, we encourage you to inform yourself as to the necessary privacy and data protection implications for which you are responsible, in advance and to implement the necessary steps together with your chosen privacy expert.
The Disqus comment system is a service offered by the DISQUS, Inc., 301 Howard St, Floor 3 San Francisco, California- 94105, USA. Their privacy policy can be located here.
Follow these directions to use Disqus for your blog posts:
1. Choose Disqus as your commenting system
Click on the Blog icon in the Menu and then on Settings > General. Go to Commenting system and choose Disqus from the drop-down menu.

2. Sign up for Disqus
Start by going to the Disqus website and creating an account. You will need to create a username, password, and give them the address of your website. You will then be presented with a large array of options for what type of website you operate. Add your website address to get a shortname for your website. 
If you already have a Disqus account, you can skip this step and go directly to the next one.
3.  Add your Shortname from your Disqus account to your Jimdo website
Your shortname is the Disqus identifier for your site that you registered when you created your forum on Disqus. You'll need to give this shortname on your Jimdo website and then click on Save. After you've added your shortname, you'll be able to manage your comments directly through Disqus.

Note: When you first use Disqus comments on your website, you'll notice that it contains ads. To remove those, log back in to your Disqus account, go to Settings > Discovery, choose the Just Comments option, and save using the button at the bottom.
Using Facebook commenting on blog posts
With over  1 billion users, it is a safe bet that most, if not all, of your visitors will already have an account with this social media giant. Why not take advantage of that ecosystem and use their login for people who want to comment on your blog?
Follow these directions to add Facebook Comments to any blog post on your Jimdo website:
1. Deactivate the Jimdo comment on the post
Click on the Blog icon in the Menu and then click on the blog post that you want to change, or create a new post. Now click on the Advanced tab in the blog post settings that will appear on the left-hand side of the blog post. Deactivate the Jimdo comments by flipping the switch off for 'Allow comments'.
2. Publish the blog post, view it, and copy the URL
You will need the exact website address (URL) of your blog post to generate the code to add the Facebook comments to you post. You can get this by publishing your post, then opening your live blog post in a browser and copying the URL from the browser's address bar.
3. Generate the Facebook Comment Plugin code at Facebook's site
Go to Facebook's Comments Plugin page and using their Comments Plugin Code Generator to create the code you need to paste into your Jimdo website.
You will need to provide the URL from step 2, a pixel width to display the comments, and the number of comments that you would like to display at any given time. Try 500px wide for templates with a sidebar and 800px for templates with more space. Adjust the pixels to your taste. 
4. Paste the Facebook code into your blog post
After pressing the "Get Code" button, Facebook will provide you with two blocks of code. Copy the first block of code, then open a new browser tab, and go to your blog post. Add a new Widget/HTML Element right below the Blog Post Title, paste the code and save.
Go back to the Facebook tab and copy the second block. This time add a new Widget/HTML Element at the very bottom of the Blog Post page, paste in the code, and save.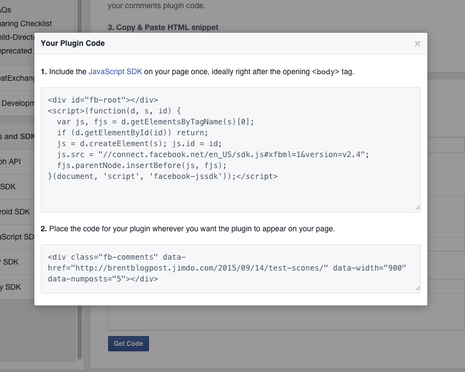 5. Repeat these steps for each post you want to use Facebook comments on