Blog Posts
Creating & managing blog posts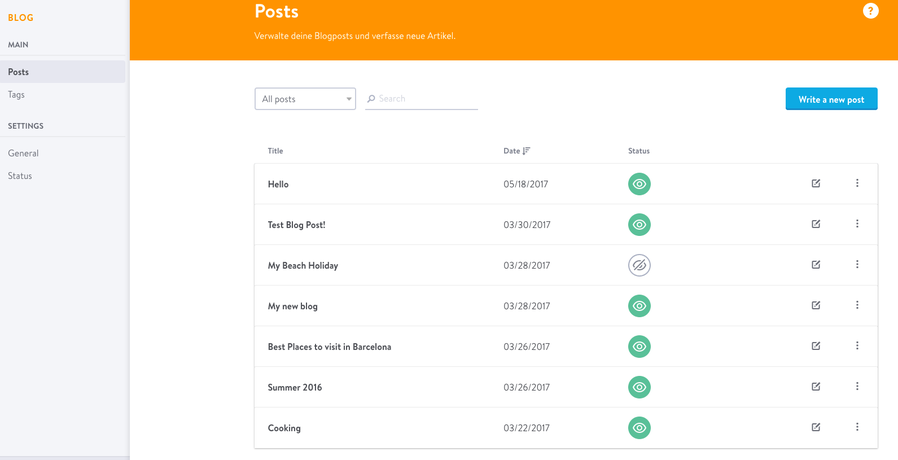 Click on "Write a new post" to start a brand new blog post from scratch. Each post acts just like a new page of your site and will get its own URL (website address) once you publish it. In order to share the post with your visitors, you will either need to add a link to the blog post somewhere on your website, or you can add a Blog Display Element to your website.
If you already put some work into your blog, take advantage of our copy feature to duplicate an existing post. This is a great way to make your own blog post templates.  
If you decide that you no longer want a blog post, you can easily delete it. You will need to confirm that you want to delete the post since you wont' be able to undo the action. Instead of deleting permanently, you can also toggle a blog post between being published or a draft, so feel free to keep extras around as drafts.
Note: By default, Jimdo adds a Blog Display Element to the top of your homepage after you make your first post visible. You can delete or move that element if you would prefer to display excerpts of your blog posts somewhere else on your site.
Blog post settings
Once you create a new blog post, you will see the blog post settings appear. Complete them as necessary, press the Save button, and then add elements (like Text Elements and Photo Elements) to create your post.  
To access the blog post settings at any time, click on Blog in your Menu and then select the blog post you'd like to edit. 
Blog post title
This is obviously the title of the blog post. It will appear at the top of the blog post, in any automatic links to the blog post (more on that later), and in the actual URL of the post. The title you choose will have a big influence on the eventual search engine ranking of your post, so pick carefully and try to incorporate some relevant keywords. You can update the title at any time, however, the URL will always be set to the original title you post, so think carefully. If you find you need to change the URL later, you'll need to delete the post and make a new one with the correct title, which is pretty easy using the "copy blog post" option.
Visibility
By default, all new posts are in draft mode. This means that the eyeball icon with the slash through it is activated and that no one can see it publicly yet. When you're ready to make the post visible to the world, click the eyeball icon. This is how you publish your blog posts. Once you make a post public, it's unique URL (web address) becomes live and you can create hyperlinks to the post or display it using the Blog Display Element.
Comments
Jimdo comments are activated by default for each post. If you would like more advanced commenting features, you can deactivate the Jimdo comments by clicking the "talk bubble" icon and use a third-party commenting system like Disqus or Facebook commenting. Both of those options provide more user logins and make it easier to have back and forth discussions with your readers.
Date and Time
These fields allow you to set the displayed posting time and date for your post. If you do not set anything, it will default to the current date. The date information will also be used in the URL string for your blog post (the address of the page). You can update this after publishing, but the URL string will not change after the initial posting unless you make a copy of the post and then publish that one with the new date.
Tags
Tags come into play with your display options. A best practice would be to set at least two tags for each post. The first one should be a category for that post. You'll be able to use this to make category blog pages if you like. The second tag recommendation is a single tag that combines the month and year (i.e. July2015). Then, you can easily build your own blog archives using these tags. On important note about tags is that each word will be a separate tag, so if you want to have multiple words, you should smush them together or separate them with hyphens ("blueshirts" or "blue-shirts" instead of "blue shirts").
Writing blog posts
Once you've got all your settings entered, it is time to build out your blog post. You do this the same way you build pages for your website—element by element.
Display your content by adding headings, lists, columns, photos, videos, and galleries. Remember to keep the text scannable. Your readers will appreciate the richer experience and will be more likely to want to come back and read more posts in the future.
What you don't want to do is write your entire blog post in one long Text Element. Instead, break it up into smaller Text Elements so that you can use the teaser feature on Blog Display Elements and also add more variety to each post. 
Once you are done preparing your post, click on its title to open up its settings and then switch the visibility to public.
With your blog post published and visible for the world to see, now it is time to promote the post on your website using Blog Display Elements or hyperlinks.
Related articles: