Text
Use the Text Element to add basic text blocks to your site. You can add this element directly from the Elements Menu:

Working with Text Elements
Text Elements are just for text—you can't insert other elements like photos, buttons, or videos into a Text Element. So rather than putting all the text on your webpage into one large Text Element, we recommend breaking it up into more than one Text Element. That way you have more flexibility when it comes to inserting photos, buttons, and other elements inbetween them.
For example, by splitting your text into two different Text Elements, you can insert a Button Element between them.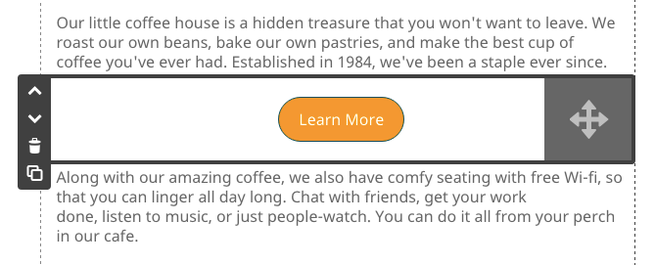 Formatting with the Text Editor
Once you add a Text Element, a Text Editor with various formatting buttons will appear. Enter your text into the Text Editor either by typing it directly or copying and pasting the text from another place. Click Save to add it to your site. 

Press the blue [...] button to open up additional text editing options. 

With the Text Editor, you can format your text in the same way you would use a word processor like Microsoft Word. Highlight the text you want to format and click the buttons below to do one of the following, then hit Save:

Make text bold or italic
Create a numbered list
Create a bulleted list
Add or remove text links


Undo or redo previous typing
Align text left, right, or center
Justify your text
Adjust font size


Indent or unindent text
Change the text color/opacity
Remove custom formatting
Format text with HTML


Hint: If you're looking to make your text larger in order to create a section heading, use a Heading Element instead. 

Note: Any formatting changes you make in a Text Element (such as changing the font size or color) will only apply to that Text Element. If you would like to change the font settings for your entire website, you do that using the Style Editor. More on that below under Styling your Text Elements.
Troubleshooting when you copy and paste text
If you copy-paste text into your website, you might accidentally carry over some formatting from the original source that you don't want. To fix this, you'll need to Remove Formatting. 
Highlight the text you've pasted, then click on the white eraser icon. This will remove any pre-existing formatting and give you a clean slate to work with.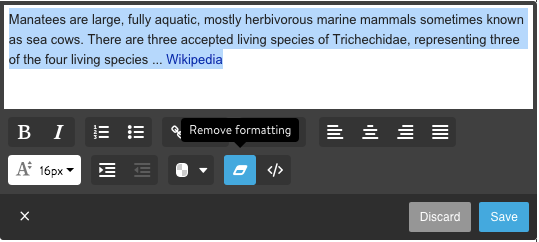 Styling your Text Elements
Now you know how to use the Text Editor to tweak formatting within Text Elements. If you want to make larger stylistic changes to the fonts on your website, go to Menu and click through Design > Main > Style to switch over to the Style Editor.
Once you're in Style Mode, click on one of your Text Elements. You'll see your font settings pop up at the top of the screen: 

Remember that any changes you make to these font settings will apply to all of your Text Elements. This helps keep your site consistent and means you don't have to change each element individually. 
Font: Choose from over 600 Google web fonts. We recommend choosing a simple serif or sans-serif font for your Text Elements because they are easier to read. Save the decorative or cursive fonts for your Heading Elements. For more on selecting the right font, see our Guide to Google Web Fonts.

Font size: Choose a font size that's easy to read on the screen. We recommend at least 16px, but the size you choose will depend on the font. 

Font color: You can choose any color and opacity level for your font color. We recommend choosing a dark color if you have a light background so it's easy to read. 

Line height: Here you can adjust the amount of space between each line of text. Keeping a small amount of white space (about 1.5) between lines will make your text easier to read. 

You can experiment with different fonts and settings and preview them on your site. They will only become live once you hit Save. 
For more tips on keeping your text easy to read, check out our Checklist for Clear, Readable Website Text. 
Related articles: