Photo
Use the Photo Element to add individual photos, images, or icons to your pages. You can add a Photo Element directly from the Elements Menu:

Remember that Photo Elements aren't *just* for photos! You can add icons, graphics, logos, badges—anything in a .JPG, .PNG, or .GIF format—using this element. For example, you can customize your own social media icons and add them to your site using a Photo Element. 
Once you add the Photo Element, you'll be prompted to upload a file from your computer. 
Make sure your photos are edited and cropped as you want them before you upload them to the Photo Element. We recommend using Pixlr, a free online photo editing program that's very easy to use. 
Photo Element Settings
Once you add your image, adjust the following settings: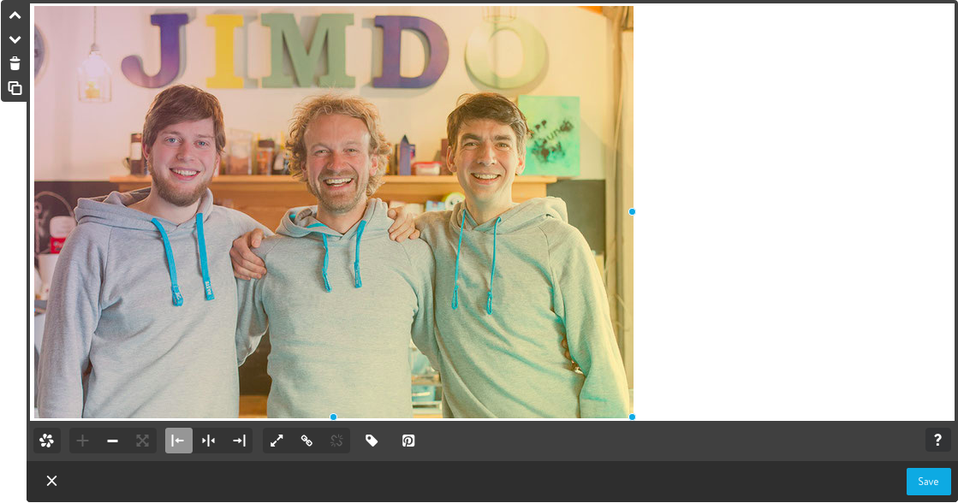 Size: Click the (+) and (-) buttons to make your photo bigger or smaller, or click the full size option. You can also click and drag the corner of the image to adjust the size. Keep in mind that you can't make the image larger than its original size. 
Alignment: Click one of the alignment buttons to move your photo left, right, or center. 
Click to Enlarge: This setting lets visitors click on your image to see it at its original size. 
 Add a Link: You can set it so that when a visitor clicks on your image, they will be taken to another webpage. You can link to an internal page on your own website, an external URL, an email address, a blog post, a store item, or a file download. Read more about adding links. 
Caption and Alternative Text: Adding captions and alternative text ("alt tags") to your images can boost your SEO. 
Pinterest: When you enable Pinterest sharing, your visitors will see a "Pin It" button in the top right corner of the image when they hover over it. 
Why bother with Alternative Text?
It's a good idea to fill in the Alternative Text field with a brief description of what your image is about. Why? Search engines can do a lot, but they can't "see" images. The text you put in your Alternative Text field (also known as "alt text" or "alt tags") will help search engines get an idea of what's in your image, and improve your search engine rankings for those keywords. Alt Text also helps visually impaired people use and understand your site. Here are some additional tips for writing good Alt Text. 
Related articles: