Tour the Menu
The Menu is what you see on the left side of your screen when you're logged in to your website, after clicking on the aptly named button:
Doesn't look right? We've recently updated this feature. Click here to download a .pdf version of the Support Center page for our previous Site Admin interface.
From top to bottom, here's what you'll see in your Menu:
Dashboard
Clicking on this option will take you to your Dashboard were you can access all your websites and update your profile too. 
Profile
This is everything relating to your personal details. Under this menu you'll find an option to set Your Name, Your Email Address, Country/Language and also to Change your Password.
Subscription
Pro and Business package customers can find out more about their subscription and billing details here.
Invoices
Pro and Business package customers can find information here about invoice dates, amounts, and more.
Log Out
Clicking this button ends your session and logs you out of your website.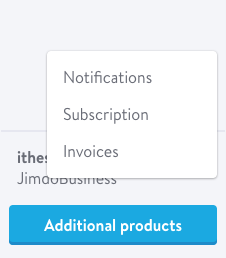 Design
As the name suggests, click on Design to work on your website's appearance.
Within this menu, you can click on Templates to open up the selector and change your template. You can also enter Style Mode to adjust your site's fonts, colors, blog styles, and store styles.
Clicking on Background will enable you to set or change your website's background to show an image, solid color, video, or slideshow.
Under the 'Advanced' sub-heading you'll find the option to design a Custom Template using HTML and CSS.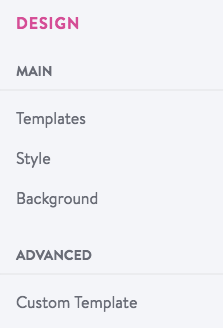 SEO
This section of the Menu relates to your website's Statistics and SEO (or Search Engine Optimisation).

Domains & Emails
Click on Domains & Emails to add either a new or exiting domain or similarly, an email account. 

Settings
Click Settings to access all of the major settings for your website. For instance, you can change your password and manage your email accounts from the Settings menu.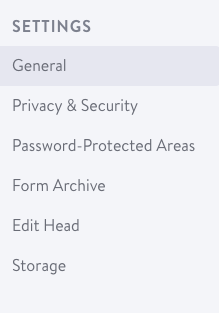 Questions
If you're a Pro or Business package user, you'll find Questions in the Menu. Here you can ask questions to the Support Team directly from your website. Along with that, you can see all your previous questions along with the responses all in one place. So you can look over them again at any time. 
Affiliate
If you're in the Jimdo Affiliate Program, you can click Affiliate in the Menu to update your profile, review your incoming commissions, and retrieve the custom affiliate sign-up link for your customers.

Help
Click Help to take you right back here to our Support Center.

Upgrade
Click Upgrade in the Menu to upgrade to JimdoPro or JimdoBusiness. You can also register domains and purchase add-on services like email accounts and secondary domains.

Note: You may not see all of the icons listed here when you log in to your site—some of the Menu options, like Affiliate, only show up after you've activated a particular feature.
Opening and closing the Menu window
To open the Menu you can click on the Menu icon, represented by the Hamburger menu (or three horizontal lines) that you'll see on the top right of your browser window when logged into your Jimdo website.
Depending on which category you click on in the Menu, a window can pop open with further options. You can always close this window by clicking the 'x' in the top right corner next to the word 'Menu'.
Related articles: