Linking
Links (short for hyperlinks) direct people to other parts of your website or to other website addresses. With Jimdo you can insert links into both text and photos. Links can lead to different pages of your website, other external websites, email addresses, file downloads, blog posts, or store items. We also have a tutorial on how to create anchor links. 
Below, learn more about how to create links, where you can put them, and how you can change their color. 
Where can you put links?
You can create links in the following elements:
Text

Text with Photo
Photo
Photo Gallery
Button
Table
Store Item

How to add a link to text
Follow these steps:
In Edit Mode, use your mouse to highlight the text that you want to turn into a link.
Click the icon that looks like a chain link. Note that depending on the size of your element, you may need to select the Additional Options button [...] before you'll see the link icon. 
Choose the type of link you want: internal link, external link/email address, file download, etc. 
Choose where you want the link to lead to. Select a page from the dropdown menu or type the URL of the page or email address that you want to link to.
Click Set Link.
Click Save. 
How to delete a text link
In Edit Mode, highlight the linked text. 
Click on the remove link button (to the right of the chain link icon). 

How to add a link to a photo or image
If you add a Photo Element or Text with Photo Element, you'll see that you can add a link. This means that if someone clicks on your image, they'll be taken to a different web page or URL. 
Linking an image works very similarly to linking text. 
Add an image to your Photo Element.
Click on the chain icon to link photo
Select the type of link you want
Add the URL or select the link from the dropdown menu.
Click Set Link.
Click Save.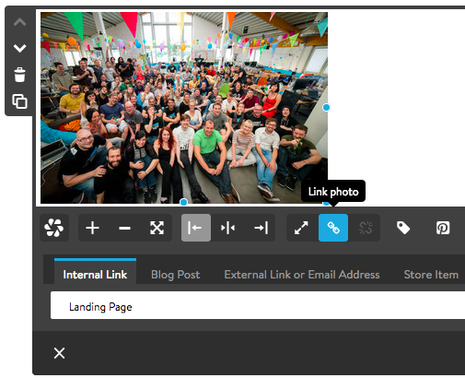 Adding a link to a Slideshow or Gallery image
You can also link photos within Photo Galleries or Slideshows. To do this, you first need to select List View in your Photo Gallery Settings (highlighted in red, below). Once you're in List View, you'll see the chain icon to add a link to each image.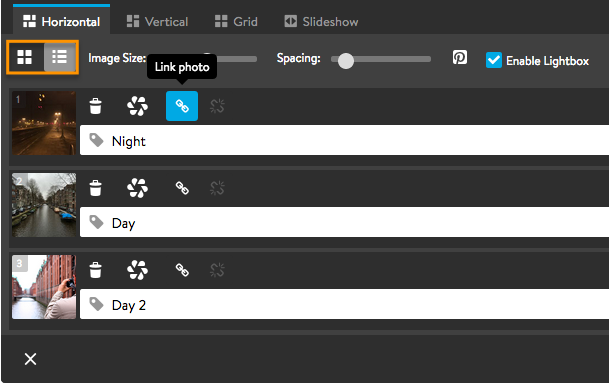 Ideas for using links in images
Types of links
When you add a link, you'll have five choices for what to link to: internal link, blog post, external link/email address, file download, and store item. 
The tabs below for blog posts, file downloads, and store items will only appear if you already have those pieces on your website. So if you don't see them, that's probably why.

Internal Link
Link to another page on your Jimdo website. Choose one of the pages from the dropdown menu under Internal Link to create a link to that page. 
Internal linking is great because if you later move or rename a page that you linked to, the internal link will update automatically. 
Blog Post
Choose any of your blog posts from the dropdown menu under Blog Post to link directly to that post. 
External Link or Email Address
Type or paste in the full URL (e.g. http://www.jimdo.com) of a page on another website to link directly to that page. You can also type in an email address so that whenever that link is clicked, a new email will automatically be created with the recipient field already filled in.
File Download
Choose any of your File Download Elements from the dropdown to link directly to that file. The download will start when someone clicks the link.
One way to use this feature is to create a hidden page of File Download Elements. Then, link photos within the Photo Gallery to their respective File Downloads to allow your visitors to easily download the hi-res versions of your photos.


Store Item
Choose any of your Store Item Elements from the dropdown menu under Store Item to link directly to that store item.
How to change the color of your text links
On Jimdo's Support Center, all of our links show up as blue text. You can customize the color of your own links in the Style Editor. 
Click on Design > Style in the Menu to open the Style Editor.
Click on a text link that you have already created. You'll see color options open at the top of the screen. 
Set the color you'd like for your link color. 
Set another color for your active link color. This is the color that will appear when someone hovers over the link with their mouse. 


In the example shown above, the link color is teal. When someone hovers over the link, it will turn yellow. If you don't want an active link color, just set it to be the same as your regular link color. 
It's a good idea to choose a color for your links that has enough contrast so it will stand out from your text. You also want to make sure that if you choose a bright color, the link text is still easy to read. 
Related articles: