Your Subscription
JimdoPro and JimdoBusiness customers can find information about their subscription and billing details by clicking on the three-point symbol located at the bottom of the menu.
Note: JimdoPro and JimdoBusiness customers who have not yet signed up to the Dashboard account can find information about their subscription and billing details by opening the menu and clicking My Account>Subscription.
The Subscription Info screen will show you all the details about your current subscription, including domains you have registered, order date, subscription duration, package, and new invoice date.
You can use the links from this page to make changes to your subscription and update your information. This is also where you can cancel your subscription.
You can purchase additional domain names for your website and additional email accounts in the Add-ons section.
Per our Terms of Service, Jimdo keeps your most recent payment method on file. If this information is out of date, use the Remove Payment Method link to clear it. You will then be able to change your payment method when your next invoice is generated.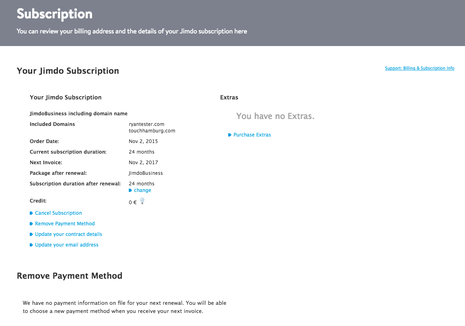 Doesn't look right? We've recently updated this section of our website editor. Click here to download a .pdf version of the Support Center page for our previous Site Admin interface.
Subscription owner and invoice recipient
JimdoPro and JimdoBusiness customers can update their billing details by opening the Menu and navigating to My Account > Subscription. After scrolling down to the subscription owner and invoice recipient section, you'll see a link that you can click on to update your account information.
To change the owner of the account, click the link and complete the form.
Note:
If you need to change the company/organization or individual name in the subscription information, please
contact our Support Team
.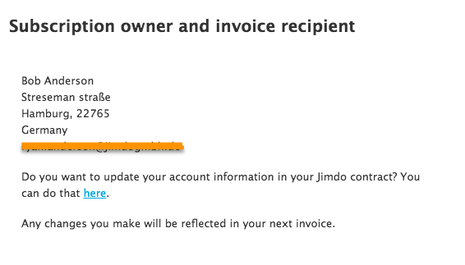 Billing email address
Jimdo will use your billing email address to send renewal notices and any communication regarding invoices and payments. Make sure to enter a working email address here and update it when necessary, as all renewal reminders will be sent to this address.
Your billing email address can be different from the standard email address you keep on file for support and other alerts.
Related articles: