Upgrading Your Website
Whether you're Free user who would like to upgrade to Pro to take advantage of the ability to use a custom domain or if you are a Pro user who would like to expand your store beyond 15 items, upgrading is easy.
Once you log into your website, you can upgrade at any time by clicking on the Upgrade option in the Menu.  From there, you can choose your package and enter your billing address to order your subscription.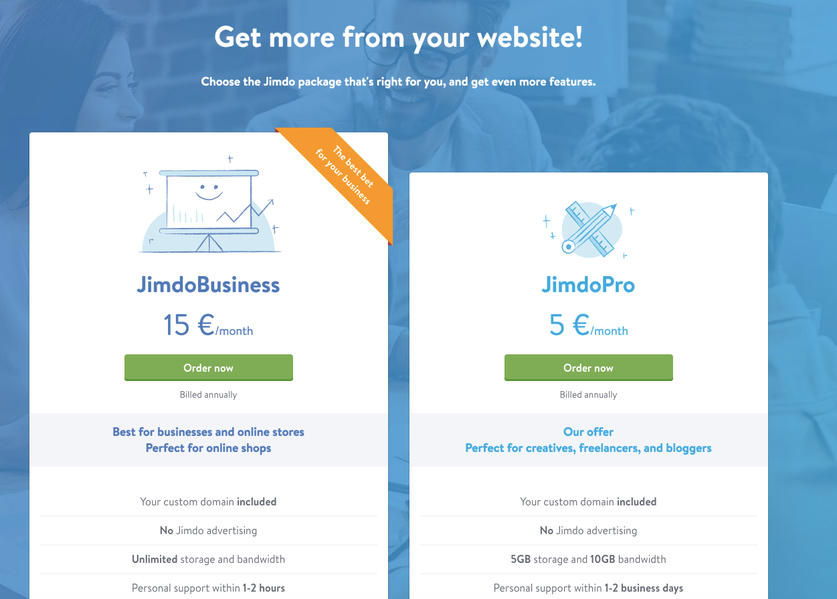 Once you've ordered your subscription, you can go back to editing your website. To add a domain, you'll need to open the Menu and go Settings > Domains & Emails > Domains. You'll see 'Add a New Domain' towards the top right of your screen. Click on it to add your domain.

Pro, Business and Platinum subscriptions run 12 or 24 months and are billed upfront. Monthly pricing is not currently available. If you're a Pro user upgrading to Business or a Business user upgrading to Platinum in the middle of your subscription term, the cost will be prorated to take into account the amount you have already paid. 
For more information about our various packages, check out our pricing page.
Purchasing additional domains or email addresses
Jimdo offers additional domains and email accounts on an a la cart basis.  
Each domain you purchase will take visitors to your Jimdo website, where they will see the primary domain name in the address bar.
To purchase add-ons for your paid subscriptions, log in to your website and click on the Upgrade button in the Menu. When you click on it, you'll see all the options available as per your location and subscription level.
Business and Platinum users will see an option of 'Additional Products' to purchase any extras.  
You can always find out more about the Extras by opening the Menu and going to My Account > Subscription.
A full list and pricing for add-on services is available on our prices page.
Related articles: