Dropbox
Please note: Dropbox is no longer available as an app on your website, unless you are already using the service.
Dropbox is an online backup service you can use to store files online. After uploading files to Dropbox, they are accessible on any computer that is connected to the internet. You can read more about Dropbox here.
By connecting your Dropbox account with Jimdo, you can easily add photos, PDFs, and other files to your site. This is an alternative to directly uploading the files from your computer's hard drive. 
Connecting your Dropbox account
Connect your Dropbox account to your Jimdo website by going to Settings > Apps > Dropbox.  
Click the button, enter your login credentials to Dropbox and follow the directions to complete the connection.
You can disconnect your Dropbox account from the same screen by selecting Disconnect from Dropbox.
Note: Anyone who has access to the login information for your Jimdo site will also be able to access all of the files in a linked Dropbox account.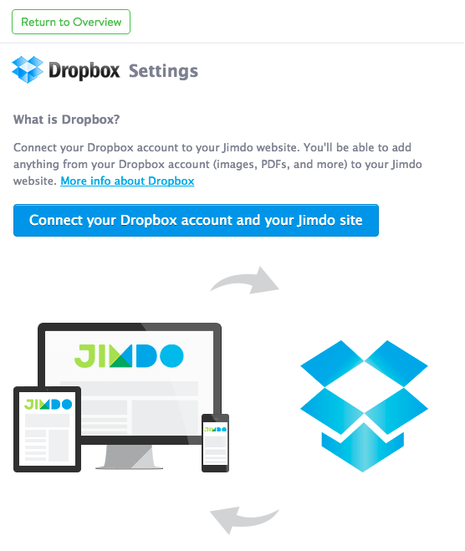 Adding files from Dropbox
You can access your Dropbox account from many Jimdo Elements that ask you to upload a file from your computer, such as the Photo Element, Store Item Element, the File Download Element, and the Background feature.
When uploading a file, you can either click the file upload icon on the left or the Dropbox icon on the right. The Dropbox icon will open your Dropbox folder and allow you to select the file you want to use.
A copy of the file will be uploaded to the element in your Jimdo website. This means that if you change the original in your Dropbox folder, it won't automatically update on your website. You would need to re-upload the file to see the new version on your website.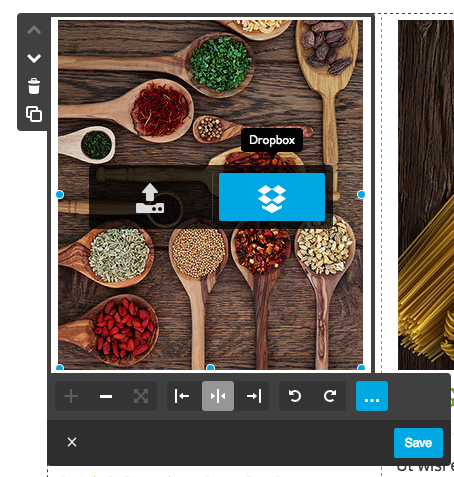 Related articles: