Canceling Your Subscription
If you decide to end your subscription to Pro, Business and Platinum, we are very sorry to see you go! But, if there's nothing we can do to remedy the situation, you can open the Menu and navigate to the three dotted symbol at the bottom of the menu, next to your website name to begin the cancellation process. Click on the subscription option. 
Then select Cancel Subscription and once you press the link, you'll be prompted to confirm, and we'll ask you if you want to cancel at the end of your subscription or immediately.
Once a cancellation is complete, your website will still be visible, but it will be downgraded to a Free website. Your attached domains will stop working except for the .jimdo.com subdomain.  Any email accounts and aliases made with Jimdo will also stop working.
If you'd like to take a temporary break from working on your website while keeping your domain and email account active, consider pausing your subscription instead of canceling.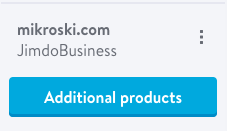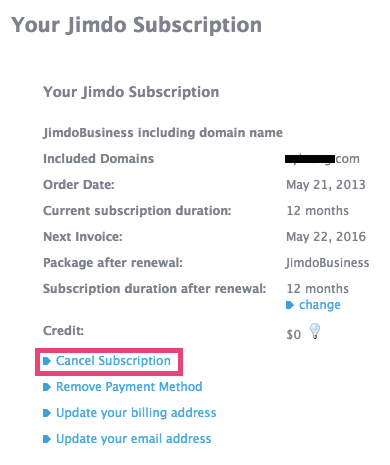 Note:
The last possible date that you can cancel your subscription is one month prior to the subscription renewal date. This is outlined in section 14.2 of our
Terms of Use
which all users agree to upon registration.
Canceling additional domains or email accounts
If you would like to cancel your subscription for any add-on products, you will need to contact our Support Team and they will be able to help you. Make sure to send your request from your current email address in order to verify ownership of your account. 
Deleting your website
Click here for thorough instructions on how to delete your Free website. Pro, Business and Platinum: To delete your website, you must first cancel your subscription using the steps above.
Note: Once you delete your website, it can't be recovered...so make sure you are really sure before deleting!
Related articles: