Start Your Store
An overview of running an online shop with Jimdo
Any Jimdo website can be turned into a functioning online store in less than 10 minutes.  This is one of the great selling points of the Jimdo website building system. It is very flexible, easy, and fast to allow your visitors to purchase your products.

While you can spend a lot more time with additional settings and features, at the bare minimum there are only three things you need to do in order to start selling:
Adding products to your store
To start selling a product or service on Jimdo, you begin in a very familiar way–add a new element. The Store Item Element is accessible in the primary batch of options.

To set up your new online product, add an Item name, Price, and Product Description. Then select Add Image to upload one or several images.  The List Price, will allow you to show a crossed out higher price which can be helpful to make your customers feel like they are getting a good deal.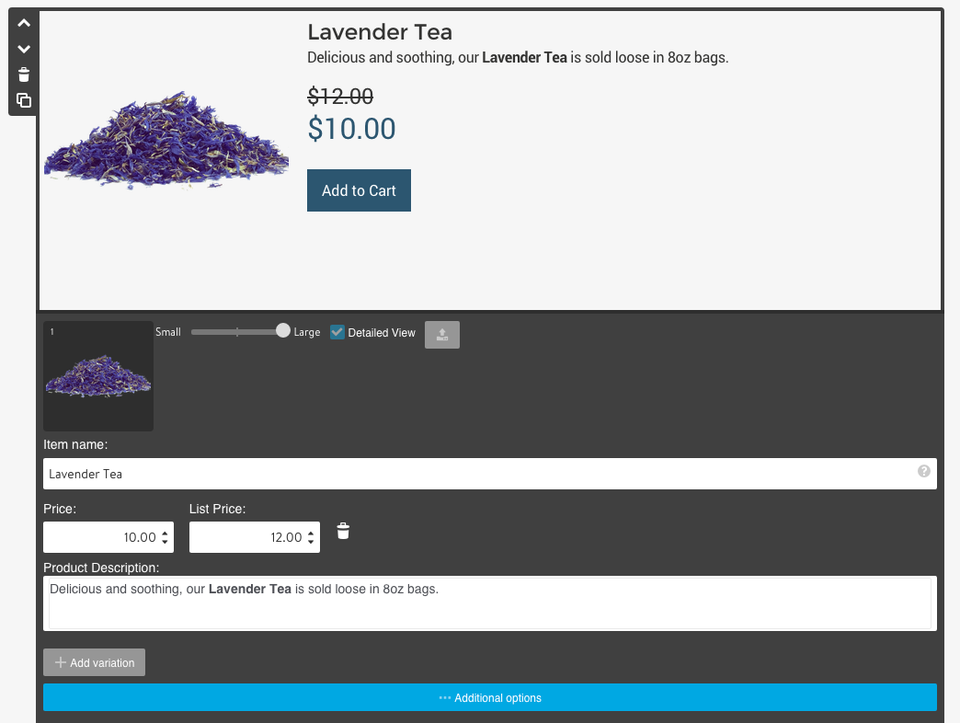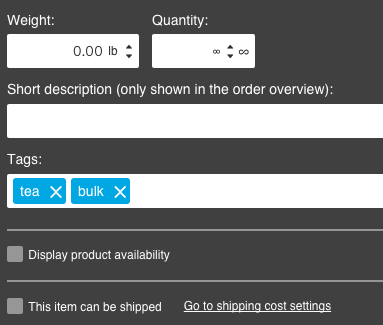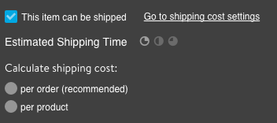 Enabling shipping on a product will allow you to set shipping costs per product or per order and will also allow you to set the Estimated Shipping Time.  This  allows you to select one of three messages to appear on screen. You can customize what each says in the Settings > Store > Settings area.
Product Variations
Do you have product options that you'd like to offer your customers? Or do you have a product in a number of different sizes? If so, you can use the variations option on the Store Item Element.  
Use the "New variation" link to activate the variations and add new options. Each option can have its own price.

Activating variations will add a dropdown menu to your product for your customers.

It is not possible to have two different drop-down options for one product. So if you are selling something like shirts that you offer in 3 colors and 4 sizes each, you should make three separate Store Items, one for each color.  The make four variations within each item for the sizes.
For example, you can create store items for a white shirt, black shirt, and gray shirt and then add variations for small, medium, large, and extra large for each one.
Creating Product Pages
Once you save the Store Item Element, your product will appear on the page where you placed it.  For best results, we recommend creating a specific product page for each product you sell instead of just placing a bunch of items on a single page.
Creating product pages will allow you to surround your store item element with additional text, images, videos, and provides your product with it's own page URL that you can use to promote in search engines and on social media.

The Shopping Cart
Once you add your first Store Item Element to your website, your visitors will begin seeing a shopping cart icon in the upper right corner of each page.

Any items they order will appear in the cart icon. They will be able to click on the cart to launch the checkout process.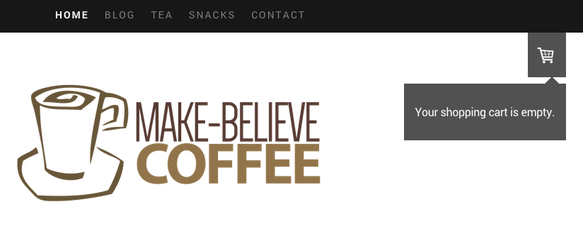 Complete your Personal Profile
In order to legally sell products or services using Jimdo, we need to know that you are old enough to operate a store. 
All that you need to do is go to Settings > Account > Personal Profile, enter your information, and save the form.
This information is not shown to anyone. Collecting it is just a legal requirement for Jimdo.
Next you should complete your store settings and connect PayPal or Stripe in order to accept credit card payments on your website.
Related articles: