Complete Your Store Settings
The store feature in Jimdo has many small options that you will need to take a few minutes to set to make sure your new online store is working correctly.  You can access all important settings for setting up your store in the Settings > Store area. 
After you work through these, you can set up your website to accept payment, and set your shipping options.

Settings
Most of the following settings are accesible in Settings > Store > Settings.  Some labels and text options are available under different icons.
Your Store Information:
You should have already set up your Personal Profile before this point in order to get your store up and running. However, that information was just for Jimdo. The Store Information fields allow you to enter the information that is shared with customers.
Please enter your store's name, address,  country, phone number, and email address.
Currency:
Set the currency that will be used for calculations and displayed on your website from the drop-down menu.  
Every Jimdo website can only use one currency. If your customers are from another country, PayPal can convert your prices when they checkout.

Email address for your store:
This email address for your store can be the same or different from the one that you use for your Jimdo website. The Jimdo store will send alerts about new orders to this email address. This address will also be displayed as a contact email address for customers who have questions.  
Location:
Set the country and, if necessary, the state or province for your store. This setting controls country specific legal options and is also used for tax purposes.
For example, with stores operating in the United States, if you enable your shop to collect taxes, these will be collected for orders in the same state as your shop, but not in others.
Taxes:
While the tax settings are slightly different based on your location,  you always have the option to activate or deactivate taxes on your store.
If you are in the United States, you can set a tax rate that will be collected for sales from the same state that you listed in the location.  Customers purchasing from other states will not have taxes collected.  The prices displayed on the website will not include taxes as is customary for American stores.
If you are located in a VAT country, you can activate and set a tax percentage and then decide if you would like to display prices with our without taxes. 
Labels and notifications:
The rest of the Settings > Store > Settings area includes additional label and notification options. 
The following options are available:

If you are using the Jimdo system to handle your inventory, you can choose whether or not to display Item Availability icons and notes.
Shipping time descriptions are customizable text notes that are activated by selecting the three clock icons in the Store Item Element. Full shipping options can be set in the Shipping Costs settings area.
Optional Item Numbers can be displayed.
Labels for list price ("suggested retail price", "recommended retail price", etc), a notes field, product buttons, and shopping cart confirmation can all be set. 
Additional options are available for displaying Terms of Service and Return Policies at Settings > Store > Terms, Return Policy, etc.
You can also customize the text for all emails sent to your customers by going to Settings > Store > Emails and Text.
Checkout Form
When the customer has already added products to the shopping cart and is finally ready to complete their order, they will be taken to the Checkout Form.

You can customize this form by going to Settings > Store >Checkout Form.
You can set which fields to appear and whether or not they are required.
We strongly recommend displaying and requiring the Email field as this will be your primary method for contacting your customers and it is used heavily within the Jimdo store to send customers more information about their orders.
After completing this form, the customer will be taken to the payment screen to enter their credit card or other payment information. This screen is actually hosted on the PayPal servers which means that no Jimdo website is required to have their own SSL certificates and your customers' information will be fully protected.
If you haven't already done so, you can now set up your website to accept credit cards using the PayPal payment provider.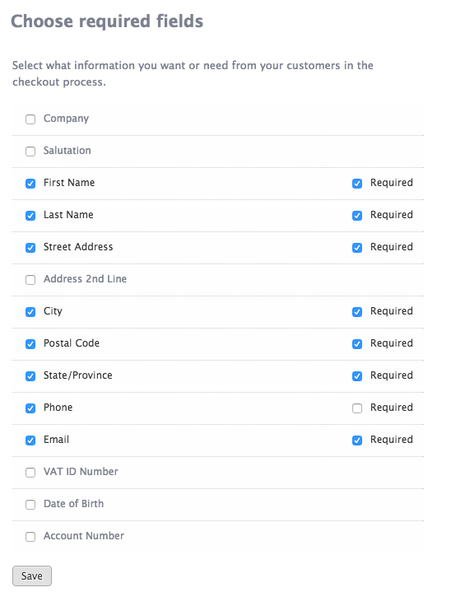 Confirmation Page

After your customer completes their purchase, they will be taken to a simple order confirmation page.
JimdoBusiness subscribers can customize this page by going to Settings > Store > Confirmation Page.
Related articles: