Using the SEO Tools
The first steps in preparing your site to be indexed by search engines, include adding your site to Google; setting your Site Title, Page Title, and Page Description; and preparing your Page URLs. Using the SEO tools built into Jimdo, this can be accomplished quickly and effectively.
Add your site to Google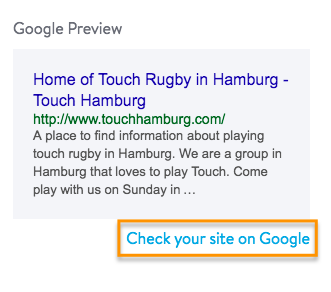 Editing your Site Title, Page Title, and Page Description
When your website appears in Google's search results page, the listing is composed of three parts: Site Title, Page Title, and Page Description (also called the meta description)—these are where you should add the keywords you'd like to optimize your site for, as well as a brief description or call-to-action. Wait, you haven't decided which keywords to use? Time to take a step back and do some keyword research. 

The Jimdo SEO tools allow you to easily edit your Site Title, Page Title, and Page Description. 
Edit your Site Title by navigating to Settings > Website > Site Title, enter your Site Title in the text field, and click Save. It's a good idea to keep your Site Title pretty short: Google will display your Site Title and Page Title together and will truncate the combined text after ~55 characters (including spaces).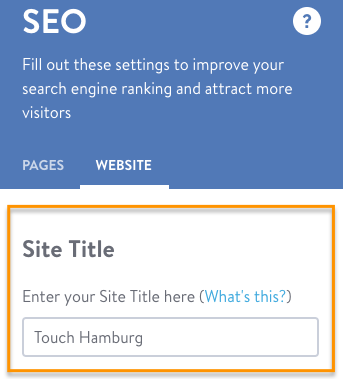 You can edit your Page Title and Page Description for each page on your site by navigating to the page you'd like to edit and clicking SEO in the Site Admin. Similarly, keep your Page Title relatively short as to not be affected by the ~55 character limit, and keep your Page Description under 160 characters, or prepare yourself for the dreaded ellipses.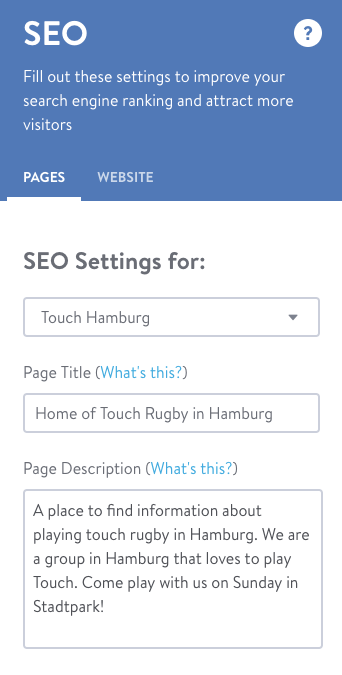 Custom Page URLs
A URL is the unique address of a given web page—it is displayed in the address bar of your browser and in search engine results. Best SEO practices suggest that it's a smart idea to keep the URL simple, but descriptive. Typically, web page URLs are auto-generated from the page name entered in the Edit Navigation menu. With the Customized Page URL feature, you can overwrite the auto-generated URL and change it to a custom URL of your choice. Keep in mind that the old URL will not automatically forward to the new URL, so take caution when using this feature.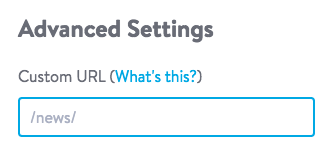 Advanced settings
JimdoBusiness subscribers have access to advanced SEO settings called robots meta tags. These robots meta tags—noindex, nofollow, and noarchive—allow you to control the way that search engines interact with the pages on your website.
noindex: When noindex is activated for a page, that page will not show up in search results. For example, if you're rebuilding your site and will have two pages with the same content, set one as noindex so that it won't show up in search results.
noarchive: When noarchive is activated for a page, Google and other search engines will not archive that page (i.e. no cached versions of your site will be available). Use noarchive for a page that has outdated information on an older version (e.g. information about an obsolete product) so that the cached version cannot be accessed by your customers.
nofollow: When nofollow is activated for a page, links that are on that page will not be followed by search engines. Use nofollow on pages where you can't control all of the links that are posted (e.g. on pages with Guestbook elements) so that those links aren't followed by search engines.
Related articles: