Statistics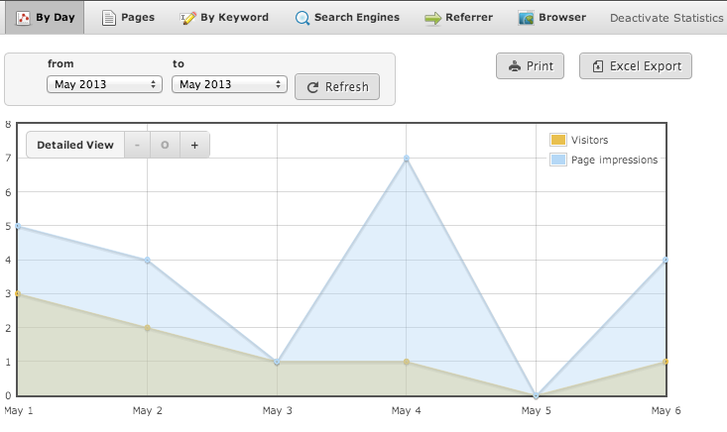 Instead of placing a hit counter on your website, we recommend using the internal statistics module described on this page. Although counters and other badges were popular in the early days of personal and professional websites, their popularity has declined. It is now very uncommon that professional websites display statistics about the number of visitors on their pages.
If you're activating statistics for the first time, you'll need to wait 24 hours before you will see any data displayed. Once enough data has been collected, you can click the tabs across the top of the statistics window to see traffic measured for the following categories:
By Day: Choose this to see a graphical representation of page views and page impressions for each day. 
Pages: See how many views each webpage on your site gets over a certain period of time.

By Keyword: See what keywords people are searching to find your site.

Search Engines: See which search engines are bringing the most traffic to your site. 

Referrer: See what links people are clicking to get to your site. 

Browser: See what percentage of your customers are using Chrome, Safari, Firefox, Internet Explorer, and other web browsers to view your site.

 
For each tab, select months and years from the dropdown menus in the top left corner to see data from that time period.
If you've made changes to your site's SEO settings or promoted your site on social media during a specific time period, enter those dates to see what impact it may have had. Check the Referrer tab to see how much traffic a link you posted on your social media profiles brought to your site.
By Day
Viewing the data by day will show a graphical representation of Visitors vs. Page Impressions. In this case, Visitors are the number of different people who visited your site and Page Impressions are the total number of pages your visitors viewed. 
You can change the date range from the drop-down menus in the top left corner of the graph. Zoom in or out by using the plus (+) and minus (-) icons to see the data represented in different ways.
Print and Export
For each of the tabs in Statistics, you can print or export the data by clicking Print or Excel Export in the top right corner of the window.
Related articles: