Creating Email Accounts And Aliases
Setting up a Jimdo webmail account
Important: Jimdo cooperates with two mail companies. To find the relevant instructions, please click here.
If you are using a custom domain with your JimdoPro or JimdoBusiness website, you can create email accounts for that domain through Jimdo. We partner with Rackspace to provide our customers the option to register a custom email address (such as name@yourdomain.com). The number of email accounts included in your subscription price depends on your current subscription level. You can always purchase more email accounts as add-on services.
To create your email account, log in to your Jimdo website and go to Settings > Email and Domain Management > Email Accounts. Click on "Add a new account" and choose your preferred address and password. 
Note: Based on Rackspace's requirements, the email password must be at least 6 characters long, may not have more than 3 consecutive numbers, and cannot contain a percent sign (%) or any part of your domain name. The password cannot be "password".
Creating email accounts for external domains
If you are using an external domain with your Jimdo site, make sure that it is properly connected before you try to create email accounts for it through Jimdo. If your domain is connected via nameservers, your MX Records should already be correctly set so that you can use Jimdo webmail. If your domain is connected via A Record or CNAME entry, you will need to change your domain's MX Records to:
mx1.jimdo.com
mx2.jimdo.com
Please note that DNS changes can take up to 48 hours to propagate. Your Jimdo email accounts will start functioning properly as soon as the DNS changes have taken place. 
Creating email aliases
To create email aliases (also known as email forwarding addresses), log in to your Jimdo website and go to Settings > Email and Domain Management > Email Forwarding and choose a name for your alias address. Then, enter the email address to which you want to forward your emails. For example, you could create email aliases like help@yourdomain.com or support@yourdomain.com and have emails sent there automatically forward to your main email inbox.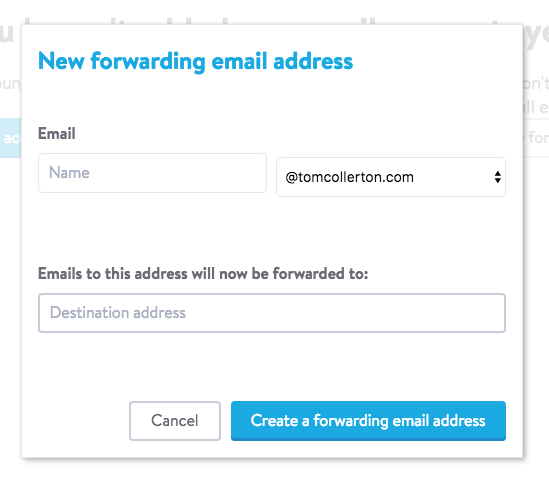 What is the difference between an email account and an email alias? An email account is an actual account with an inbox, email settings, and the option to reply to emails using that address. An email alias doesn't have any of that. Instead, it automatically forwards all incoming messages to a different email account.


Note:
An address cannot be an account and an alias at the same time. If you've already created an email account with the address that you'd like to use as an alias, you will need to
delete that email account
before you can create it as an alias.
Related articles: