Form
Use the Form Element to gather information from your visitors. You'd typically see a Form Element on a "Contact Us" page, but you can use it in other places around your site as well. 
You can add a Form Element from the Elements Menu, after clicking Additional Elements:

Some forms look slightly different depending on the template you're using, but most of them start out looking something like this: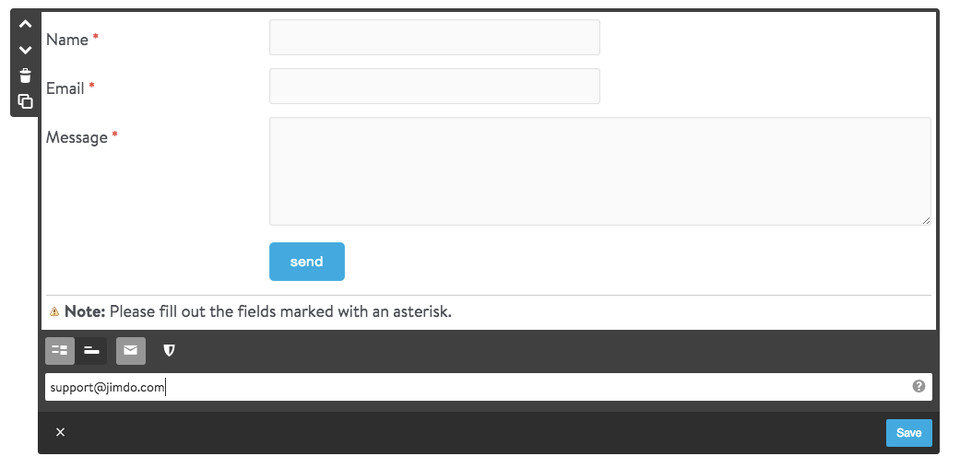 Form settings
Once you've created a Form Element, you can start adjusting the different settings:
Form Layout: Choose whether you want the labels to appear on the left or above each field.
Confirmation Message: Enter a custom message that will display every time a visitor submits the form.
CAPTCHA: Turn this on to prevent spam submissions. Your visitors will have to type in the random text that appears in the CAPTCHA box in order to submit. 
Your Email Address: Enter the email address you want form submissions to go to.
Button: Click on the "send" button to change what it says. 
Form fields
Within the form, you can rearrange and adjust form fields just like you would any other element. 


Add any of the following types of fields to your form. You can also add a heading:
Single-line Text

Multiple-line Text

Email Address

Date

Number
List

Radio Button

Checkbox

Multiple Checkboxes
If you add an email address field, users will only be able to enter a properly-formatted email address into that field. If you want to collect general text or not restrict the format that someone uses, use a single-line or multiple-line text field instead. 
Once you add your fields, you'll see additional options appear in each one:
Label: Enter the text you want to show up next to the field. This will tell users what you want them to enter. 
Required: Decide which fields are required in order to submit the form. 
Width: Set the width of the field between 1% and 100% of the width of the form. 
Number of lines: For multiple-line text fields, you can choose the number of lines.  
Note: If you're looking for more advanced form features, surveys, or the ability to let users upload a file to a form, we recommend using Wufoo. Build a custom form on Wufoo's site, copy the code they provide, and paste it into a Widget/HTML Element.
Form archive
While all form submissions will go to the email address you enter, they'll also be collected and saved in your Form Archive. Access the archive anytime by clicking Settings > Website > Form Archive. 
For each submission, you'll see:
when the form was submitted,
which page of your website the form was submitted from,
all of the information that was submitted with the form.
Form style
You can change several parts of your form's design. To do so, create a Form Element, click Style in your Site Admin, and then click on the part of the form you would like to style. 
Form submission button
Change the font size, font color, and background color of your form's "send" button. Options here are similar to the style options of the Button Element. 
Form fields
Change the border color of your text fields, and set the color of the text that visitors will enter into the fields (remember to choose a font color that's still easy to read). 
Other form styles
Other design traits of your form, like the shape of the button and the shape of the form fields, will vary slightly depending on the template you are using. 
The font labelling each text field will match the settings of your Text Elements. 
Related articles: